Na Dubh is Gorm head to Battery Park, Lochcarron on Saturday 25th March to renew a friendly rivalry that has been an entertaining and enriching one over the years.
The connections between Lochcarron and shinty in Lewis are woven through the history of the sport in Lewis in the 20th and 21st centuries. In the 1950s, a group of young Wester Ross men who were pupils at the Castle School won the Harrow Cup at the Ross-shire Camanachd Sixes. In the 1990s and early 2000s, there was perhaps nobody more synonymous than Boyd MacKenzie, a famous son of Lochcarron, who brought through the first generation of shinty players such as Daniel Gallagher, Scott Murray and many others with both Back Camanachd and Comunn Camanachd Leòdhais.
The clubs first met quite by accident with a Strathdearn Cup match in 2008 at Inverlael. It was a fairly routine 9-0 win for Lochcarron seconds against a side managed by Conor Macdonald. The match was actually refereed by Kenny "Duffy" Murray who would play for both sides over the years.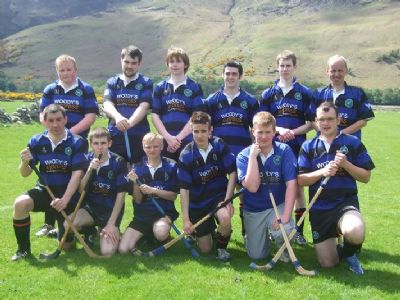 The two sides would meet again in 2010 as Lochcarron joined Skye in sending teams to the first Craig Morrison Stornoway Sixes. Kinlochshiel, Lochbroom and Uist were also represented by the first Stromeferry No Ferry United sixes team. Lewis A would be unlucky to lose 2-1 to Lochcarron with Paul Duke scoring, whilst Lewis B would lose 5-0.
With historic bonds strengthened by the sixes tournament, as well as players from both clubs being involved with Alba and Iomain Cholmcille, meant that Lochcarron were steadfast supporters and advocates to the Camanachd Association for Camanachd Leòdhais entering the league set-up in 2011.
The very first game between the two sides was set for the second week of the inaugural season but bad weather meant the game was cancelled. Lochcarron reserves would be one of the first visitors to Sgoil Shiaboist and repeated their 9-0 scoreline from 2008. however, the rescheduled away leg to Battery Park was a well-contested game, which saw Donald Lamont both forget the strips and score our only goal in a 4-1 defeat.
2012 saw the two clubs meet again and the gap between the teams was much closer. Lochcarron overcame Lewis 3-0 at the Battery Park, whilst Lewis went close at home with Scott Murray and "Tyson" Campbell scoring in a 3-2 win for na Carrannaich. The legendary Dougie Dan MacKenzie would also tog out as a guest for Uist Camanachd as they won their second HebCelt Cup that July.
2013 was a difficult year for Lochcarron as their second team folded and they elected for their first team to be relegated to North Division Three. Lewis therefore faced Lochcarron firsts for the first time in April 2013 and almost came away with a famous win after a scorching goal from Seumas Charity (who would also play for both clubs). A dubious late penalty salvaged a point for Lochcarron to avoid starting their new beginnings with a third successive defeat but also meant that Iain "Diablo" Sinclair picked up a second point of his reign. Lewis also put in a fine performance at home until a second half masterclass by Ross Brown (who until then had been masterfully marshalled by Daniel "Gaga" Gallagher) made it 3-0 to the Wester Ross men who were promoted later that year.
2014 and 2015 saw two pre-season friendlies cancelled by bad weather, but the clubs would eventually meet again in 2016 in Inverness at Millburn Academy and it was a great day for the Leòdhasaich under new manager Duncan Macintyre. Scott Macleod scored his first two goals for the club, to go with a Donald Lamont goal in a 3-2 win on astroturf. With Lochcarron coming back down into North Two, the clubs would meet a further couple of times in the league, Paul Duke scoring in a narrow 2-1 defeat at the Battery Park, and a 4-0 home defeat at Sgoil Shiaboist.
2017 saw the first two attempts at fixtures postponed, and Lochcarron came away with a 3-1 win at Shawbost (Will Church with the Dubh is Gorm goal) and a 5-0 win at their home park.
With John MacAskill taking the reins, Lochcarron would gain the familiar scoreline of 3-0 in Lochcarron, but the return leg was a tighter affair initially with Paul Duke and Ally Lamont getting a goal apiece as Lewis succumbed 5-2 at the end. Crisdean MacRae who played for Lewis then would go on to play for Lochcarron in recent years.
In 2019 Lochcarron would go on to win the division and started their season with a 7-1 romp at the Battery Park, although Scott MacLeod would get on the scoresheet, and it was an altogether tighter affair in Shawbost. Lochcarron were in a tense shoot out with Strathspey for the league at the time, but were cheered by news of Strathglass shocking "The Men In Purple" 4-3 the same morning. Although this handed them back the initiative in the title race, it was a nervy Lochcarron that ground out a 2-0 win, but it was a great performance by the Dubh is Gorm against a team who would prove worthy champions at the end of the season.
The clubs met earlier in the season in the pre-season sixes in Inverness, which na Carrannaich won overall but Saturday will see the first meeting in 4 years between two clubs who have a great shared history.
It will be a real challenge for Lewis to get a win at Battery Park, with a Lochcarron team gunning for the title, but after a win and a draw for the Dubh is Gorm, and several landmark wins in the last 12 months, then anything is possible. Keep updated @lewiscamanachd