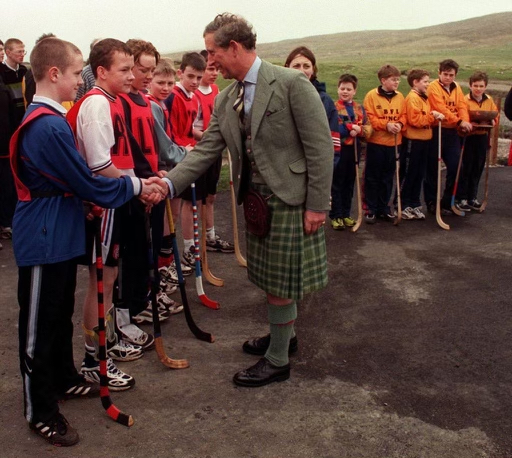 The Lord of the Isles Trophy was donated in 1997 by then HRH Prince Charles, the Lord of the Isles. Dr Alasdair Barden secured the trophy by phoning Buckingham Palace and simply askin and Comunn Camanachd Leòdhais received a handsome Hard Wood Rose Bowl inscribed Duais Triath nan Eilean is surrounded by silver shields to display the winners.
1997 around 80 young people attended the original tournament held in Stornoway and Back on 18th July 1997. This was won by Back. In this recording of Prògram Choinnich, Dr Barden and Neil Ferguson, who ran the Sandwick Club, can be heard talking about the organisation of this tournament.  https://www.tobarandualchais.co.uk/track/10748?l=en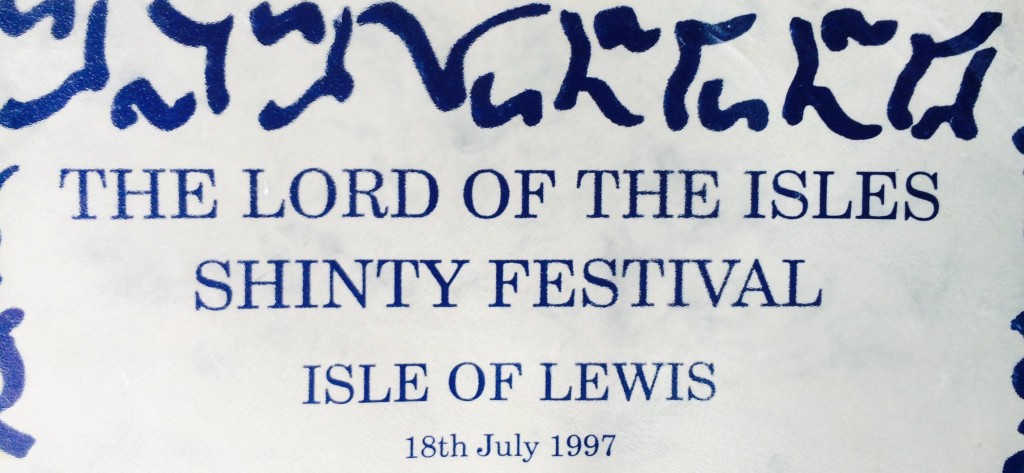 The 1998 event was cancelled due to the tragic death of Dr Barden in June of that year.
In 1999, the event coincided with the opening of the Berneray Causeway as Prince Charles wanted to see the trophy when he visited the issland. The then Lord Lieutenant of the Western Isles Lord Dunrossil was also a fan of shinty.
Teams entered from Lewis, North Uist, South Uist and Barra. Lewis entered Back and Muirneag, which was a combination of players from the Sandwick team and Borve. The two teams met in the final and Muirneag won 1-0.
The teams were Back – Ian Kennedy, John MacKenzie, James MacKenzie, Daniel Gallacher, Andrew Ross MacLennan and Alan MacKay
The Muirneag team was George Mowat, Donald Lamont, Sean Smith, Eoin Smith, Peadar Smith and Alexander MacLeod.
In 2001, a two day festival was held at Smith Avenue in Stornoway run by Boyd MacKenzie. Run as an under-14 tournament 45 children were in attendance as were Ronald Ross, and Camanachd Association President at the time Donnie Grant. teams from the West Side and Back were joined by Struan from Skye, Lochcarron and Barra. It was wet day Highlights were a 3-3 draw between the Barraich (scorerers Euan Campbell, Alasdair Galbraith, Michael 'Bod' MacNeil) and Lochcarron. Back won the day, with John Mackenzie their player of the tournament. Barra, Lochcarron and Struan all finished on 4 points, and the West Side secured a point against Lochcarron as they brought up the rear.

The last running of the Lord of the Isles was in 2005 at Lionacleit, held on the same day as the Mòd Cup. Both results went the way of the Uibhistich.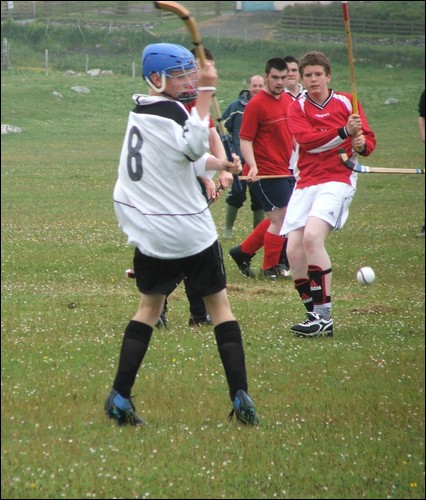 The trophy was repatriated to Lewis in 2018 thanks to Boyd MacKenzie. The club would like to re-establish the Lord of the Isles as the premier shinty trophy for youth in the Western Isles again, and with a new Lord of the Isles in place this may be an appropriate time to do so.