To mark the virtual Mòd, here are three Mòd Cup stories with a Camanachd Leòdhais connection , looking back at the three fixtures played at Stornoway Mòds in 1979, 1989 and 2001.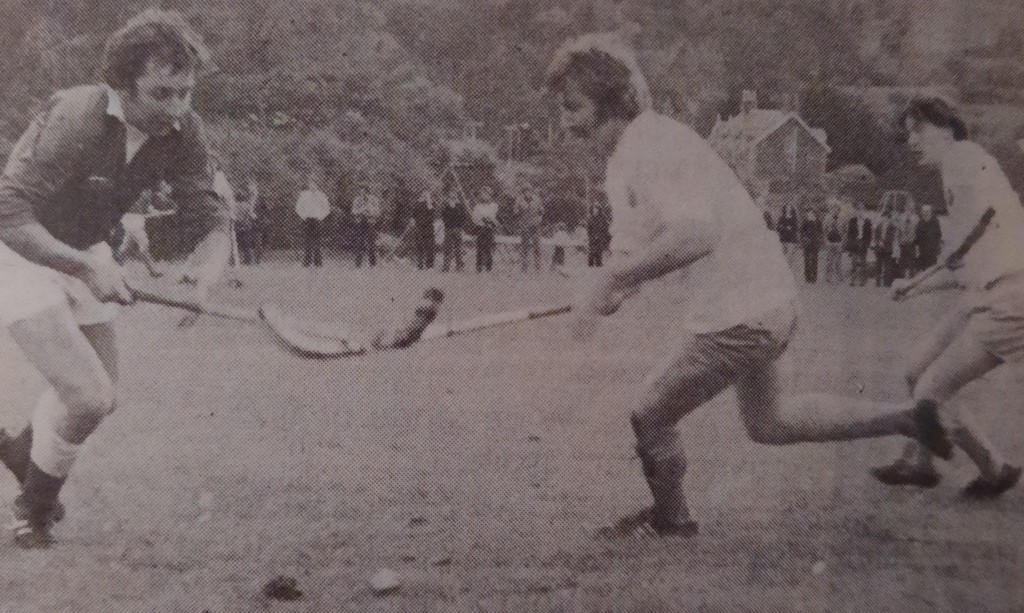 The first is from the 1979 Stornoway Mòd, but where the Mòd Cup was played in Lochcarron (Lochcarron and Lewis being in old Ross-shire, it was a fairly tenuous link, but the game went ahead on the Battery Park.) According to the West Highland Free Press (photos and report from there) it was "thrill-a-minute shinty" between na Carrannaich and Skye Camanachd. Skye took a 3-1 lead in at the interval, but then Lochcarron grabbed a controversial late equaliser that forced extra time. It would be our very own Boyd MacKenzie (pictured above), who went on to develop so many shinty players in Lewis, who gave Lochcarron the lead, before his namesake Alister MacKenzie scored his hat trick to win Lochcarron's first silverware in nine years.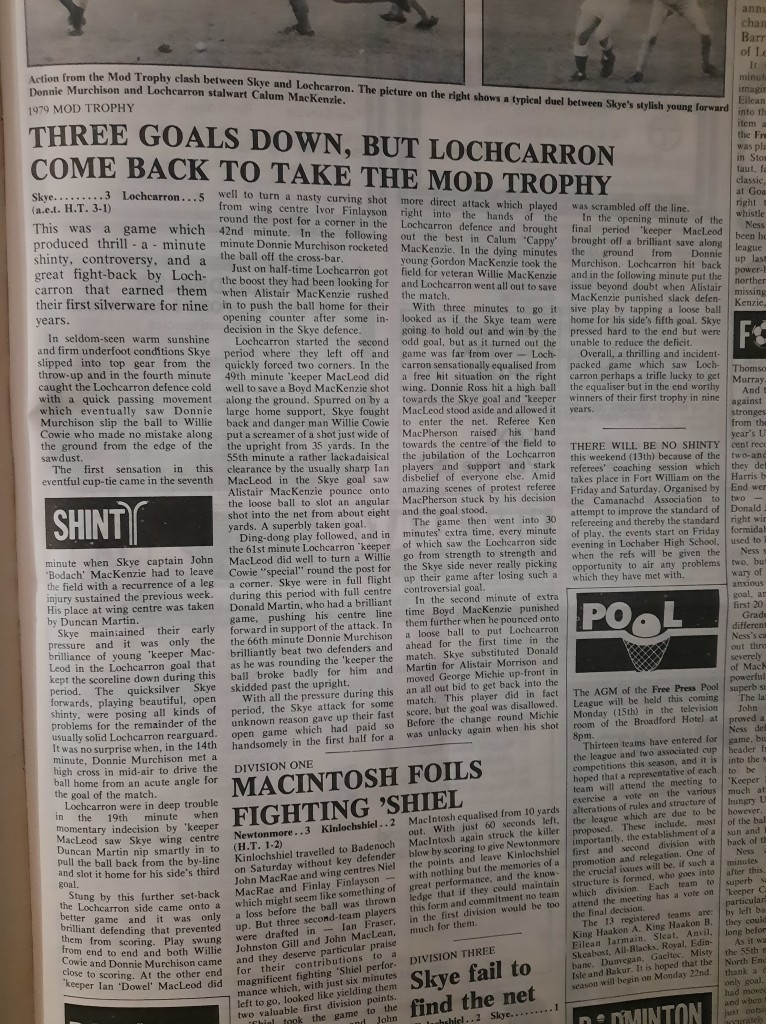 1989 saw shinty actually take place in Stornoway, and this time Skye were involved again, but they played against Beauly. The Gazette had a picture of the two teams at Bayhead with Henry MacInnes refereeing. The bulk of this Skye team were also on the park when they lifted the Camanachd Cup 9 months later. Beauly player Martin "Toad" MacLean also played in both this match and then the next senior match in Lewis, the first home league game at Shawbost, featuring for Lochbroom.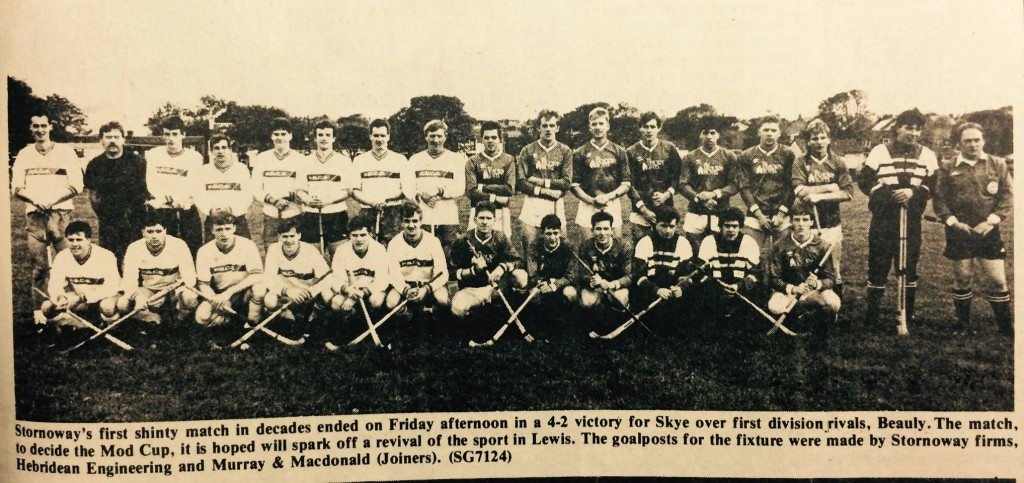 The Glasgow Herald the following week had an interesting anecdote surrounding Beauly player Stephen MacLean and also the shortness of Bayhead, which will be familirat to any used to playing the HebCelt at Bayhead and why the pitch is fitted in at the strangest of angles to get more length. (Of course, this anecdote from 1989 was still being used 17 years later by a few folk to deter any thought of camans ever being swung by the banks of the Creed.)
Talking of mugs — which the Oban outfit clearly are not — another

unlikely artefact to enter the shinty arena in the last few days is an

electric shaver.

This was the unexpected item presented to Beauly midfielder Stephen

MacLean for being selected as man of the match in the Mod Cup challenge

game in Stornoway which opponents Skye won 4-2. In fact, MacLean has

already had a close shave in a pre-season friendly when he suffered a

broken cheekbone after having been hit in the face with a ball and the

injury is not yet fully healed.

"It will come in handy for shaving down my shinty stick," he joked

after a contest which entertained the smallest crowd of around one

hundred but which had some bizarre aspects.

It had been billed as a double header, counting also for league points

in Marine Harvest North Division 1, but after it became apparent that

the pitch, a rugby field, was less than the minimum dimensions for a

shinty field a decision was taken that it would be a challenge match

only.

This decision, however, has yet to be endorsed by the Camanachd

Association.

MacLean added: "The pitch was also very muddy which made clean

hitting difficult. Although spectators felt they saw an exciting game we

could have given a better exhibition had conditions and promotion of the

event been better."

This is a view which has been heard before in previous Mod Cup

matches. There are obvious reasons for closer contact between the

Association and An Comunn Gaidhealach and perhaps improvements can be made

next year in Glasgow.*
*1990 was the only year since 1969 when a Mòd Cup match wasn't scheduled!
The final anecdote will be one that evokes a lot of memories, having taken place at Rally Park, Tarbert, Harris in 2001. This was the first time a side from the Western Isles had competed in the Mòd Cup and it was Back Camanachd, coached by that man Boyd MacKenzie, who faced off against a Kyleakin Primary School team. The Skye Team went on to win the game handsomely 11-0, but as many of the Skye team went on to raise the Balliemore, the National League, the Valerie Fraser or also excel in other sports it was no shame for the young Bacaich as they were just in the early flushes of shinty in Lewis.
As the shinty yearbook mentioned in 2002 "This was as effective as anything that will have happened in a week of horo-gheallaidh in the Western Isles." and perhaps it was right. Gaga and Stompy would go on to become important players for Camanachd Leòdhais through both the entries to the cups, the leagues and beyond.
The Back Camanachd team was; Back Row – James MacKenzie, Andrew Maclennan, John Ferguson, Daniel "Gaga" Gallagher, Front Row – Daniel Clark, Michael MacKenzie, Sam Norton, David MacKay, Calum "Stompy" Stamper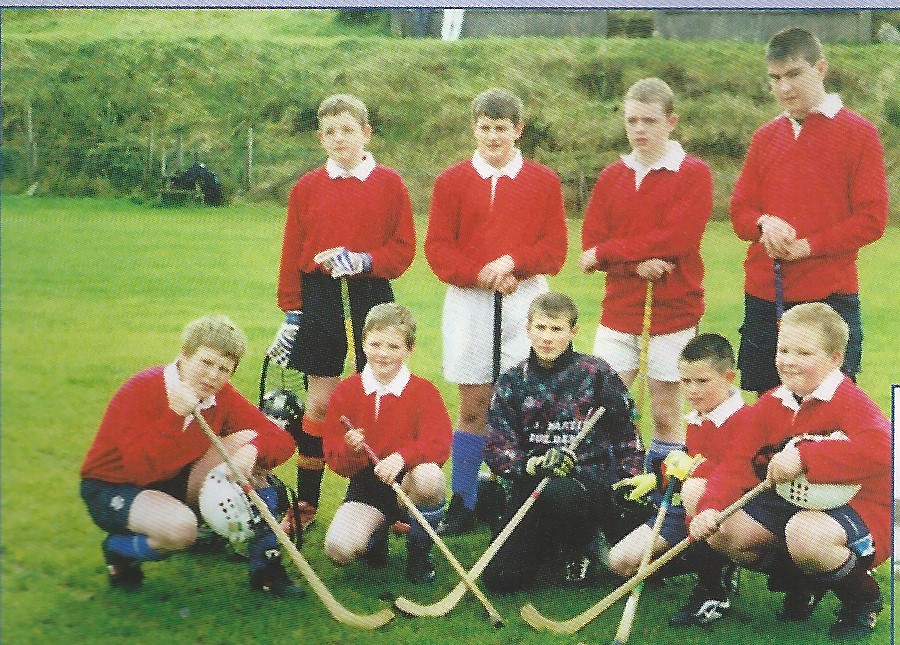 The Kyleakin team wasn't lacking in Lewis & Harris connections either, future women's shinty icon Sarah Corrigal having a granny from Carloway, and the MacLennan brothers, Ally and "Shockie" coming from good Leòdhasach and Scalpach stock. And of course, the man who coached the team, the late Alasdair Morrison, was half Rubhach through his mother Jesanne from Garrabost, and both his sons Steven and Danny, who went on to multiple honours with Skye, played as well in the victory.
Here they are sailing back to Skye as so far the only Primary School team to have ever won a senior shinty trophy. (Photo courtesy of Anne MacCuish)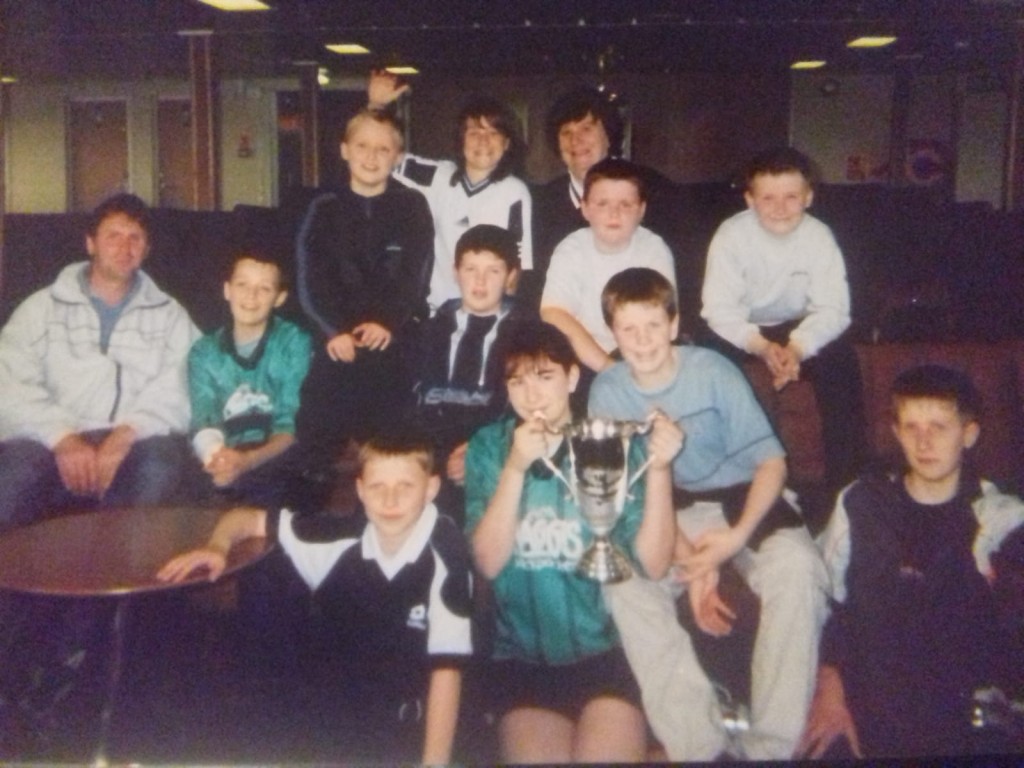 The 2005, 2011 and 2016 Mòd nan Eilean Siar fixtures for what is officially known as the Aviemore Cup, have been documented in more detail on these pages before. The Mòd Cup certainly figures very importantly in the development of shinty in the Western Isles and hopefully whenever the Mòd returns to the Western Isles at some point in the future, it'll be another day to remember.
Some of the pictures here and from other Mòd Cups past will be seen in Iomain Aig A' Mhòd 2020 – a special programme to mark the absence of shinty this year along with the rest of the Virtual Mòd – the programme premieres at 11am on Saturday 10th October