Although the honours for the evening at the Sunday Mail/Sportscotland Scottish Sports Awards went to Newarthill Amateur Boxing and Fitness Club as Local Club of the Year, Lewis Camanachd turned out well at the awards in style, meeting ex-Scotland manager Walter Smith, Leicester City legend Neil Lennon and former Sheffield United stalwart Stuart McCall as well as a host of Scottish sporting legends from athletics to motor sport.
Walter, who was given a lifetime achievement award for his stalwart work as Jim MacLean's assistant at Dundee United in the 80s, posed for a photo with Donald Lamont, Dukey, Flip, Innes Lamont, Scott and Micheal.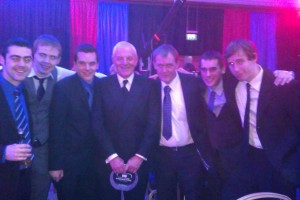 Congratulations to Newarthill on their success as well as to Stirling Triathlon Club who also made the final three. Andy Murray was sports personality of the year.
As Dukey himself said;
"A year ago we could never have imagined sitting a few seats away from so many of Scotland's best sporting talents. It was just a privilege to be amongst all those amazing nominees."
You can catch all the action from the awards at 9pm on Sunday 4th December on STV.
Remember, this Wednesday is D-Day at the Board of Directors!