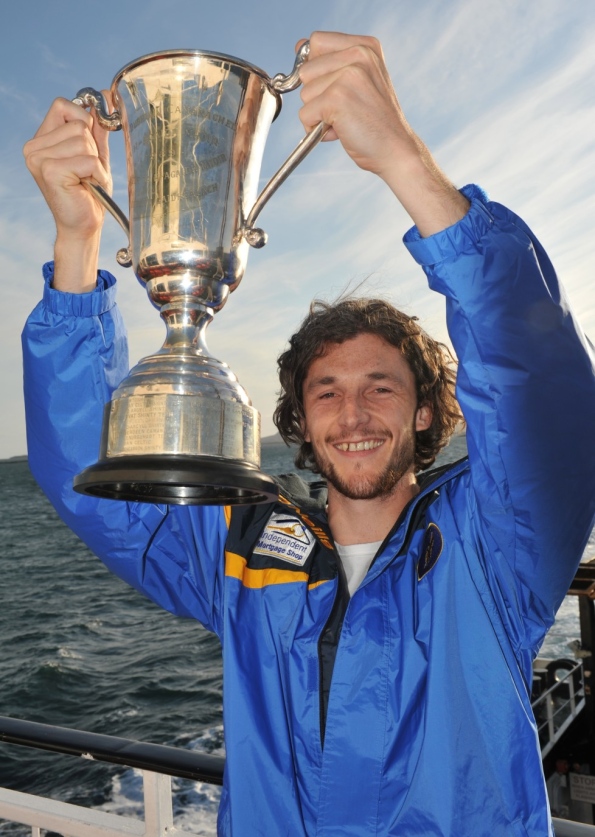 Camanachd Leòdhais paid a fond farewell to one of its undoubted legends after Saturday's 1-1 draw with Beauly.  Will Church was not able to sign off from his shinty career with a 40th career goal from 68 games, but he did have the benefit of seeing that the future of the club is bright, as young Alexander Gordon's goal helped secure a point at Shawbost, and several other youngsters played an important part.
Having moved to Lewis at the beginning of the 2010s for work, Will came to the sport of shinty  fairly late, being picked up thanks to a taster session at the HebCelt in 2011 where his ability to gave a ball a good smack was evident straightaway, and he would make up for lost time by going on to have a seismic impact for a developing Lewis shinty team lacking a true goal threat in its early years.
After a few substitute appearances in our first league season, he chose the greatest moment to score his first goals for the club – a brace against Uist which brought home the trophy which the club had set out to capture when it was reformed in late 2006. The photo at the top of the page is one of the iconic pics of an incredible year.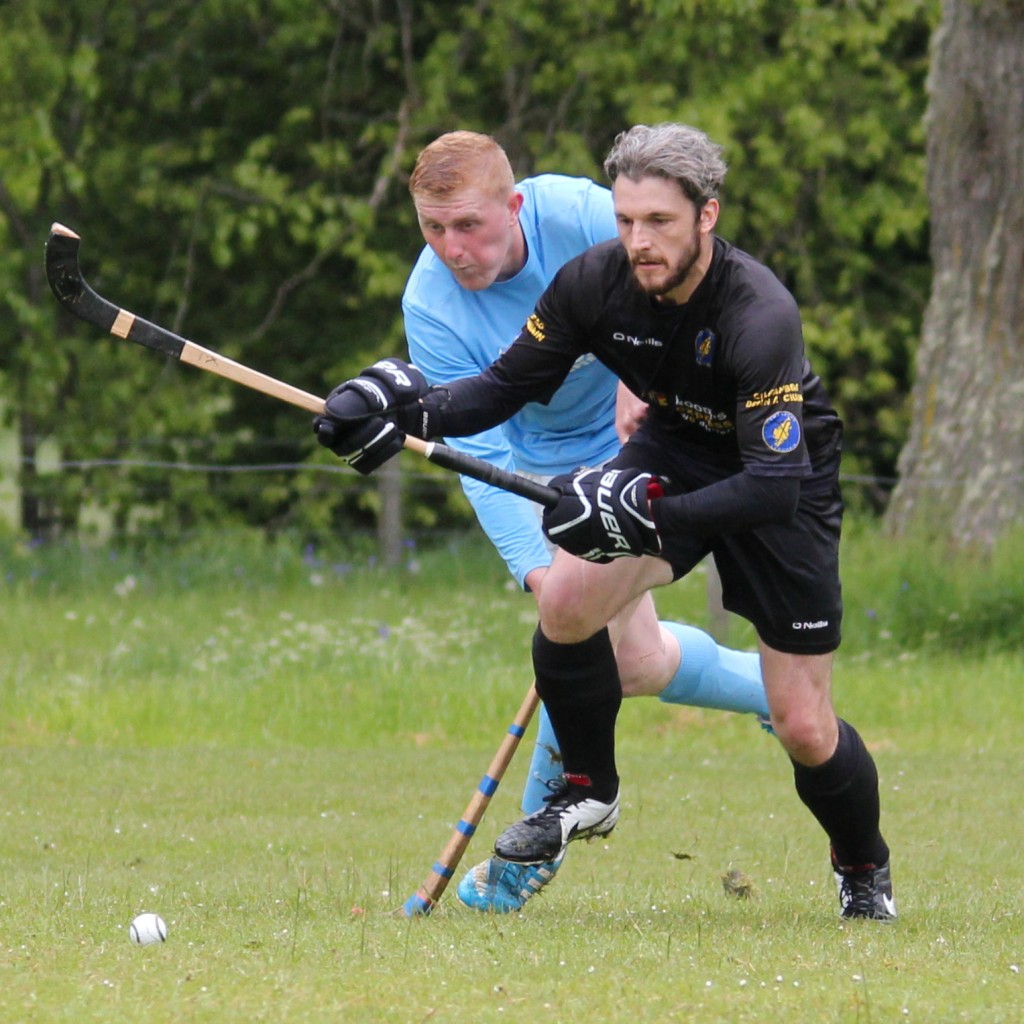 His 2012 season saw him begin to find his way in his new sport, and a hand injury against Strathglass brought about the famous ice hockey gauntlets which were to become his calling cards as his unorthodox but effective playing style caused North Three defenders nightmare. He soon found his feet and would go on to be the top scorer in 2013, 2014 and 2015.
Marriage and family commitments meant that Will took a step back at the end of the 2016 season, but still made an occasional goal scoring appearance in 2017. However, he has now made what is surely his last appearance in the Dubh is Gorm, as he and his family are making the bold move to Sweden where they go with the club's very best wishes ringing in their ears. Thanks for the memories Will. Gur math thèid leibh anns an t-Suain!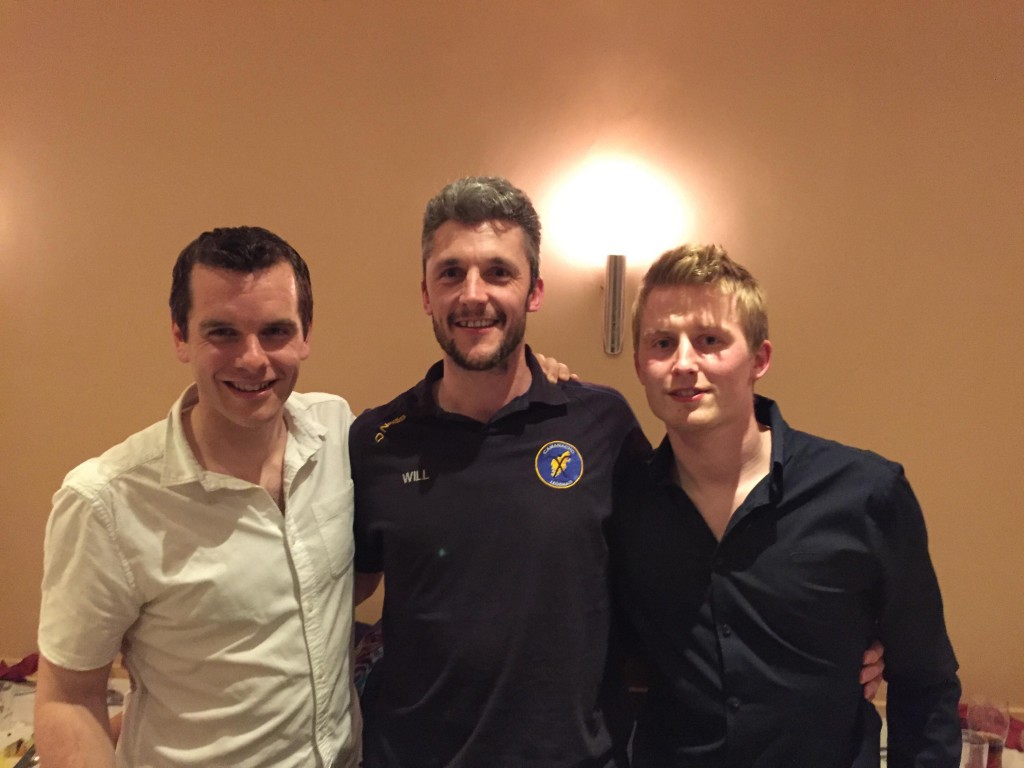 Donald Lamont made the following impassioned speech at a special function after the Beauly game that was held to mark Will's contribution to the sport of the Gael in Lewis and Harris.
Today marked game number 68 for Will – finishing on an incredible total of 39 goals. It is hard to believe that was his last game in a Lewis shirt as he and his family set off on a new adventure in Sweden at the end of the month, although I still haven't lost all hope of seeing Finn wear the famous Number 10 shirt in a few years time.
"It is great to see so many of our junior players here, who are stepping up to the plate and thriving in our squad at such a young age, I am particularly pleased they are here because although they played very little with Will – the man I am about to describe is what they should be aspiring to when they wear the famous Dubh is Gorm – above all else Will is a role model who epitomises the values of this club.
"Will is one of the best team mates I have ever had the pleasure of playing with. He knew what to say when things weren't going well and he was more pleased than anyone if you succeeded. Throughout the years as a club when we have struggled on the park it is characters like Will that have brought us through, kept us going, encouraged us and made us do ridiculous circuit sessions in the dead of winter when every other sane shinty player is having a well earned rest. But that is the drive we need and we must ensure we follow Will's example.
"Everyone will have their own favourite Church moment or goal: Winning the 2011 Mod Cup with a 2 goal salvo ensuring one of the greatest return journeys in the history of sporting away fixtures. Glè mhath were the boys! A last minute equaliser versus Strathglass at Cannich when all seemed lost. A jaw dropping individual goal at the Bught in a 3 nil defeat of Inverness. When we needed some magic to happen Will always provided it. Our famous 1-0 win at Castle Leod in 2015 – who scored? Will.When we beat Kilmallie for the first time who got the first goal that day? Will.
"Off the field Will is a devoted family man which has meant we haven't seen as much of him lately but Jinxy made this comment which I think is a fitting way to end this tribute. "An intelligent guy with a sharp wit. Loves a good rum and is even more of straight shooter with a few drinks in him."
"As a club we are going to miss Will hugely and we, Camanachd Leòdhais, wish him all the best for his new life in Sweden. We hope you stay in touch and keep following the fortunes of the club online."