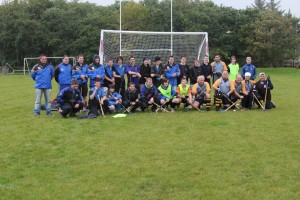 Whodathunkit? Only days after getting our hands on the Camanachd Cup, we then go and ensure that we can claim bragging rights as Champions of the World after beating our friends from Northern California Camanachd. The weather wasn't the best but we managed to win 4-2 with Donald Lamont scoring 2 and Craig MacLeod also grabbing a brace. Paddy played for the Americans and scored as did Michael Bentley.
Read more about it on the Gazette website.
http://www.stornowaygazette.co.uk/sport/first_ever_cross_atlantic_shinty_clash_1_1871343
On Thursday, the NCC held a ceilidh in the Nicolson Institute then Diablo took them around the island to see the sights and sounds. We hope they enjoyed their visit and we hope to see them soon over here or over there.