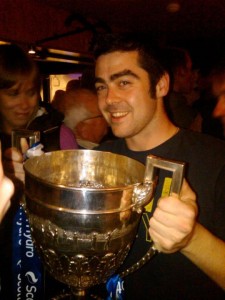 What better way for the Newtonmore boys to end 25 years of hurt and the vanquishing of their greatest rivals than to party on down with Gaga, Conor, Dukey and the Camanachd Leodhais dancers? Supposedly the Balavil has never seen the like, and seeing as The 'More have got a hundred years head start in terms of victories in the Scottish, we're happy to lend them the trophy for another 25 years or so. Which is around when Dukey should resurface.
A warm welcome awaits the new Scottish Champions if ever they take the ferry over, so watch this space!
Lewis defeated Northern California Camanachd 4-2 at Bayhead on Wednesday 21st September, Donald and Craig scored two each (which pushes Donald into the top scorer) and Paddy scored for California.
Well done to both the Nicolson Institute and Sir E Scott Schools on a well fought game, 3-2 to the Niccy last week in Tarbert. Daniel McFadden, Connor Chalmers and Ryan McCafferty scored for the Leodhasaich and Stuart Morrison and Brendan Latham scored for the Hearaich. Great to see the Harris boys compete well and it bodes well for the future. Good luck to both Lewis and Harris teams this Saturday against Uist in the Causeway Shield.
Causeway Shield 11am, Saturday 24th September, Battery Park, Tarbert.