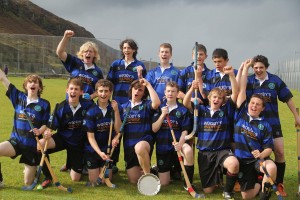 Saturday 24th of September was a great day for youth shinty in the Western Isles with teams from Lewis, Harris and Uist meeting in a six a-side competition at Tarbert for the inaugural Causeway Shield.
Camanachd Leòdhais A were the eventual winners of a good tight competition which saw the new Harris team only squeezed out of second place by Uist Camanachd A on goal difference. The final game was between Leodhas A and Uist A and this acted as a final with Connor Chalmer's double and Paddy Sinclair's solo effort the difference as Lewis won their first piece of youth silverware for many's a year.
The full results and standings are below but the following are noteworthy.
Daniel McFadden top scored with five and these all came in the one game against Uist B for Lewis A.
The Hearachs only conceded one goal in the whole tournament, so perhaps they could teach the Lewis first team a thing or two! Stuart Morrison and the lads have a lot of potential. a great result for a first tournament.
Uist's Ewen Campbell player of the tournament..
Thanks to all the referees, coaches and organisers as well and here's hoping for more tournaments such as this in the coming years.
Geamaichean
1 Leodhas A (1)1 v. Leodhais B (0)
Connor Chalmers
2. Uibhist B (0)0 v. Na Hearadh (0)1
Stuart Morrison
3. Uibhist A(1)1 v. Leodhais B (0)0
Ruairidh Muncaster
4. Leodhas A(0)0 v. Na Hearadh(0)0
5. Uibhist A (1)3 v. Uibhist B (0)0
Ruairidh Muncaster 2,
Fraser Ballantyne
6. Na Hearadh(0)0 v. Leodhas B(0)
7. Leodhas A(2)5 v. Uibhist B(0)0
Daniel McFadden 5
8. Na Hearadh(0)0 v. Uibhist A(0)0
9. Leodhas B(1)1 v. Uibhist B(0)0
Ryan McCafferty
10. Uibhist A(1)2 v. Leodhas A(2)3
Ewen Campbell 2 Paddy Sinclair,Connor Chalmers 2
Scorers
Daniel McFadden 5
Connor Chalmers 3
Ruairidh Muncaster 3
Ewen Campbell 2
Stuart Morrison 1
Paddy Sinclair 1
Ryan McCafferty 1
P W D L F A Pts
Leòdhais A 4 3 1 0 9 2 7
Uibhist A 4 2 1 1 6 3 5
Na Hearadh 4 1 3 0 1 0 5
Leòdhais B 4 1 1 2 1 2 3
Uibhist B 4 0 0 4 0 10 0