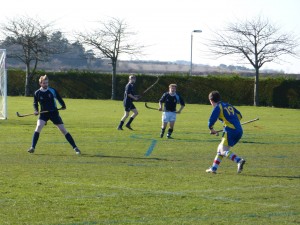 After the disappointment of Saturday's 7-0 defeat to Glengarry, we have a little treat this Wednesday 25th of March, as one of our own, Micheal Macdonald (pictured above), brings his St Andrew's University club to Lewis & Harris on tour.
The St Andrew's University Shinty Club is a famed institution throughout the game, started in 1967 by some medical students looking for alternative entertainment. In almost 50 years as a club, they have been very far from achieving success, but have gained great plaudits and several awards for their indefatigably and enterprise, keeping the sport of the Gael alive in a University and area where traditionally there has not been a strong Highland presence.  As a club who have overcome barriers ourselves we look forward to the meeting of these two teams
Micheal, who has been named "Choona" according to the tradition of shinty nicknames at the Fife institution, is looking forward to the trip to home soil. They are also visiting our friends at Skye Camanachd on Tuesday with a tour of Pairc nan Laoch and a training session. Micheal said "I'm blown away by the enthusiasm that the lads, many of whom haven't even heard of shinty when they come to Scotland, have for training and the sport. I'm sure they will have a great time when they are up and I'm delighted to be returning as Captain of the club to my home team for this special occasion."
This will be the first meeting between the two sides, although several players, including Micheal, were involved in the victorious Glasgow Island side which won the St Andrew's Sixes in 2012 and the club are keen to send a side to this year's event in May. Eoghan started out his coaching career with the St Andrew's Ladies team as well, so we probably have them to blame for that!
The match between Lewis and St Andrew's will take place at Bayhead on Wednesday 25th March. Throwup will be around 5.45 and we will play until it gets too dark to see!