After the historic victory over Beauly in the Sutherland Cup, further cup adventures beckon with Camanachd Leodhais travelling to Portree to face Skye Camanachd in the second round, and cup action against our island neighbours for the first time since May 2010.
In 2010, both clubs were drawn together in the Strathdearn Cup. This cup match would be a watershed moment for Camanachd Leòdhais, possibly more than any other the event which pushed the club to applying for league status despite all the obstacles that were in their way.
There was excitement about this historic match up. Lewis even gave up "home" advantage at Inverlael for the game on the first of May, but hospitality off the park, which included a warm welcome in the Pàirc nan Laoch clubhouse and a plaque marking the first ever meeting of the two teams, was not matched on it as what was, at the time, a struggling Skye reserve team brutally despatched Lewis 18-nil. A result which would live in infamy but also become the catalyst for all that has followed.
And although they had been the one's who dealt out that drubbing on the park, off the park Skye Camanachd were and continue to be great friends and supporters of the our young club. They stood shoulder to shoulder with Lewis during our application to the North leagues, publicising our campaign via their website, which continues to be the premier source for shinty news on-line. The Skye club had faced similar "arguments" against them when they had applied to enter competitions in the 1880s and 90s but always a forward looking club, they were committed to supporting their island neighbours, for which the Lewis club will always be grateful. Even the nets for Lewis' first season in the league were borrowed from Skye Camanachd, and Lewis also turned out in Skye away strips on one occasion in 2011 against Lochcarron.
They also supported the first ever Craig Morrison Sixes in 2010, sending two teams and taking the trophy back to Portree. This wonderful day which was a great tribute to Craig who had passed away almost exactly a year before, also saw Lewis gain great confidence as the Lewis A team were beating Skye 1-0 thanks to a Paul Duke goal until a late Alan Palmer strike saved the Skyemen's blushes. Coming hot on the heels of the 18-nil drubbing it was a heartening result.
The clubs have continued to meet over the years. Skye have braved the Minch (and Stornoway pubs) in February on two occasions for pre-season friendlies, in 2012 and 2013. 10-2 (Ruairidh Urpeth and Kevin Kennedy scoring) and 7-2 (Will Church and Duncan MacIntyre) were the scores in favour of the Sgitheanaich, but both games showed that after only a couple of season, whilst a gulf in class remained, Lewis were at least able to hold their own.
In 2015, both Skye and Lewis ended up in the same league, a newly constructed North Division Two. Skye had been placed in the lowest tier due to a lacklustre previous campaign and were looking to bounce back to a higher level. They certainly did this in style against Lewis as they went on to win promotion. Skye took both points 6-1 in Portree, (Donald Lamont with the Lewis goal) and won 9-0 in Shawbost.
In 2016, Camanachd Leodhais were honoured to be invited to Portree to continue the revival of the John "Kaid" MacLean Cup, a prestigious and beautiful trophy which on that playing also helped mark 100 years since the Battle of the Somme. This was a good season workout for Lewis who played well to only lose 3-0. Lewis have been invited to compete for this trophy on two subsequent occasions, the first in 2018 cancelled due to inclement weather, but the 2019 one saw Lewis face a very strong Skye team with Jordan Murchison returning from injury. The score was 9-0 and remains the last time the two clubs faced each other on the park.
Both clubs also have a long tradition of competing in the Mod Cup, Skye famously winning the Mod Cup in Stornoway the same season they lifted the Camanachd Cup, but have only met on one occasion, also in 2016. This game, played at Shawbost, saw Lewis hold their own against the Sgitheanachs for over an hour, until a goal from Skye veteran Peter Gordon broke the deadlock. The score finished 3-0 to Skye who took the Aviemore Trophy back to Portree.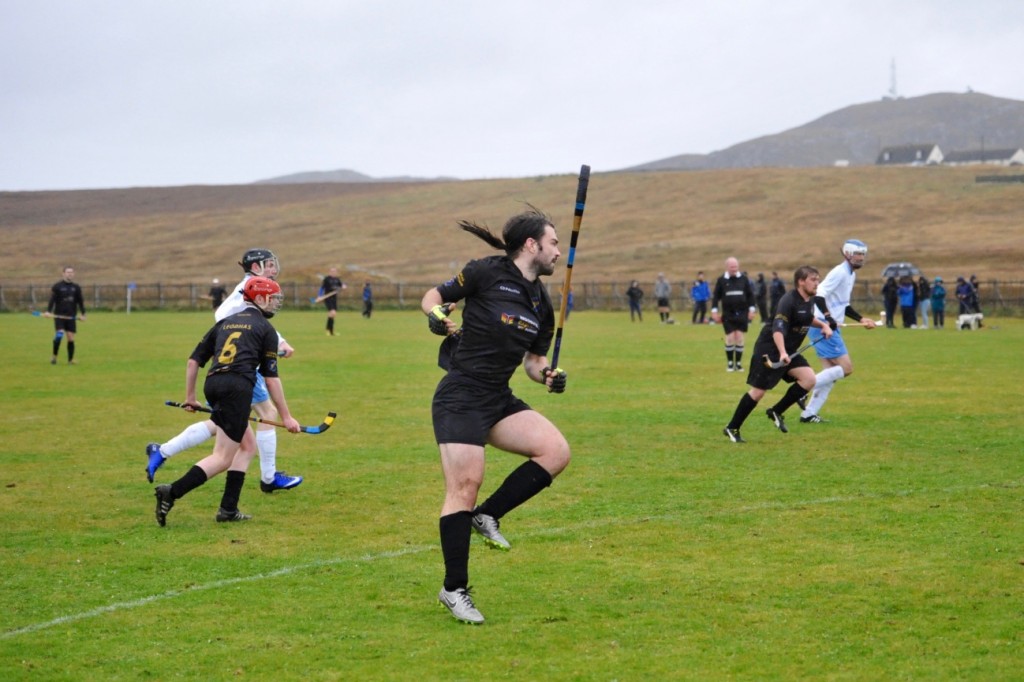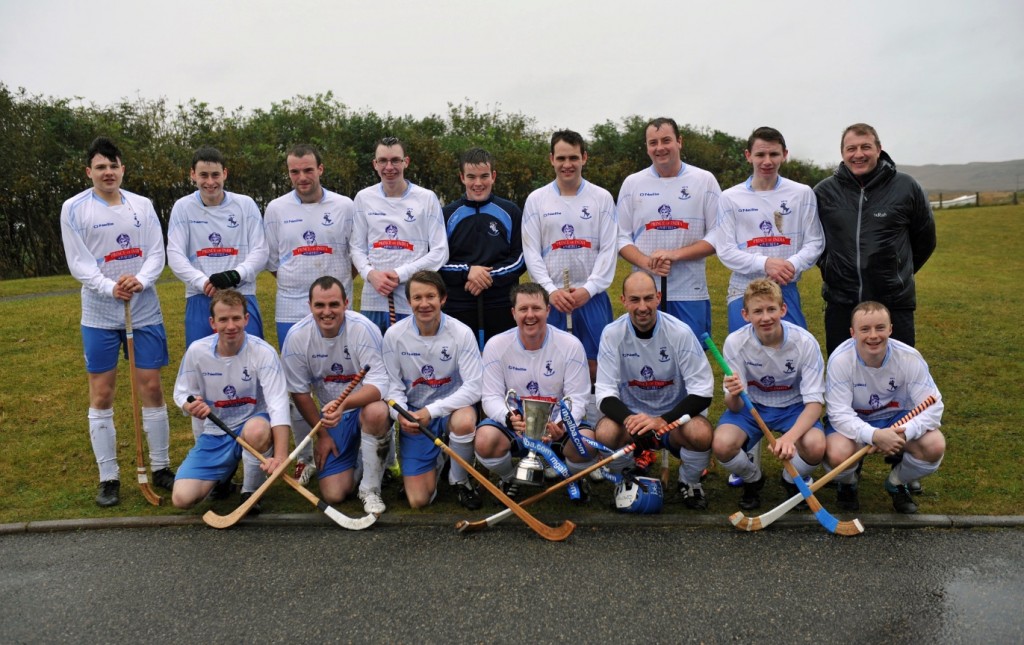 Whatever the result of this next meeting between the two senior Hebridean shinty clubs, it is sure to be played in the same spirit of comradeship and companionship that always characterises this fixture. Skye Camanachd are riding high in North Division One with a hungry, young squad, but will be warier of Lewis after their heroics in Beauly. Skye Camanachd, both on and off the park, will be a club by which Lewis measures its own progress, but hopefully on Saturday, the Dubh is Gorm can get closer than they have before to our friends and neighbours, and maybe, just maybe, make history yet again.
Lists of Fixtures between Skye Camanachd and Camanachd Leodhais
2010 – Strathdearn Cup, Skye 18 – 0 Lewis, Portree
2012 – Preseason Friendly, Lewis 2 – 10 Skye, Shawbost
2013 – Preseason Friendy, Lewis 2 – 7 Skye, Shawbost
2015 – North Division Two, Skye 6 – 1 Lewis, Portree
2015 – North Division Two, Lewis 0 – 9 Skye, Shawbost
2016 – John "Kaid" Maclean Cup, Skye 3 – 0 Lewis, Portree
2016 – Mod Cup, Lewis 0 – 3 Skye, Shawbost
2019 – John "Kaid" Maclean Cup, Skye 9 – 0 Lewis, Portree