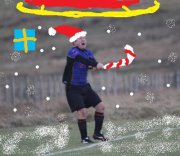 So wee update on the craic this Disathairne and the glorious sporting celebration that is the Shinty Awards and Dinner Dance in the Lodge.
Training IS on! 2-4 in the Sports Centre on Saturday – get your sweat on before the big old ding dong dinner dance! Things kick off at 7pm but there are a few wee things that anyone coming can do to help make things go with a swing.
Big shout out to Trish who is doing the meals, Annette is bringing some desserts – we are expecting 50 at the meal, so any extra desserts will be much appreciated. Also if any one wants to help Trish in the afternoon instead of training that would be great too!
Kenny has asked if we can try and bring or get donations of raffle prizes.
Remember as well though that the dance is open to everybody (you only need a ticket for the dinner!) so let's get a good crowd down for 9 O Clock! Portrona, Stornoway's Youngest, Finest, Ceilidh band will be giving it laldy and for a £5 ticket for the dance only (which will help cover the band and contribute to club funds) it's a steal, so get your pals, brothers & sisters, even grannies, seanairs and ministers along!
Thig ann!
http://www.facebook.com/events/561822090498842/