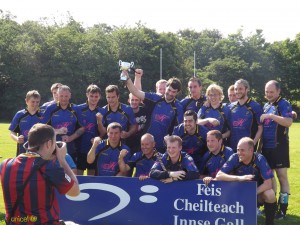 A big mealaibh ur naidheachd to everybody at the club for a supreme effort on Saturday, both on and off the park. A club record win was just reward for a magnificent performance against Uist.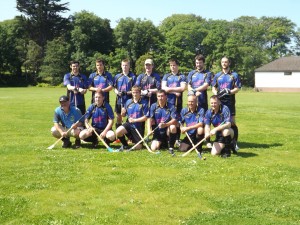 Thanks as always to Caroline and the whole HebCelt team for their generosity but also to the many, many supporters who turned out in force, we are glad we entertained you! Thanks to Kenny for collecting as usual! A bang up job well done!
Duncan opened the scoring with a dazzling hat trick and his second was the pick of the bunch, Donald then popped home the fourth, then Will grabbed a deuce to make it 6-0 at halftime.
In the second half, we were able to relax and this gave lots of guys serious game time, the only goal of the half again came from Duncan who made it 4 on the day and eased himself ahead in the scorers' charts.
Angus MacVicar from the Camanachd Association presented the cup and was very impressed by the skills on show from both teams.
Gaga was captain for the day and put in a mighty performance as usual. Duncan was man of the match although Dougie Shaw was always in with a shout.
No rest for the wicked however! We have a massive game on Saturday against Lochaber who can win the league in Shawbost. As much as we enjoy the classy guard of honour of the park, let's get training hard this week and try and push up the league.