Last Saturday saw the Scottish Uni's select beat the British Uni's Irish Hurling select 20-2.  The cold weather in Dundee meant the game was delayed by an hour due to the frozen pitch and had to be moved from the Riverside pitches to Dawson park on the other side of Dundee.
The men's squad was managed by GMA and Scotland Intl. manager George Hay and Intl. Senior player Kenny Ross, also goalkeeper for Lochcarron.  The Highlands & Islands were well represented with Lewis being represented by Scott, and neighbours Skye represented by Kerr Gibb and ex-skye player Kieran Roberts who played against Lewis in last years North 3 for Aberdeen Uni.
The 15 a-side game threw up at 2.30pm and due to dwindling light conditions was reduced from the usual 80mins of play to only 60mins, half an hour each way.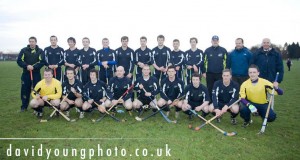 The game got underway and was immediately obvious that this would be a scrappy, physical game thanks to the Irish hurling style.  Scotland full back Peter Campbell gave the home side an advantage with his huge by-hits going way past the half way line into Irish territory.  Ten minutes in, Strathclyde and Fort William player Sean Cameron opened the scoring edging a goal in for the home side.  Both sides took a while to adjust to the game and Scotland increased their lead through Duncan Macrae and Duncan Davidson before the end of the first half.  George Hay used the four rolling subs well through the short game and made sure the team was evenly rested.
The second half saw the Scotland squad get a grip on the game with midfielders Garry & Iain Luke linking up well with the forwards giving the side a string of 3-point goals through Duncan Davidson, Duncan Macrae and Finlay Stark as well as multiple 1-point and 2-point goals from midfielders Munro, Gibb, Murray and Mcnab.  Ireland managed to pull two points back but it was more than a long way back for them thanks to the solid defending from Peter Campbell, Tom Smith, Peter Grace & Kieran Roberts.
The physical aspect of the game went against the Scotland side but once the shinty players got into their stride of simple passing along the ground, the Irish found it difficult to get a hold of the game due to their mostly in-air play and the prohibited use of their hands to catch the ball. Final score, 20-2.
Full Squad: Duncan MacRae, Finlay Stark, Kieran Roberts, David Fraser, David MacFadyen, Patrick FitzGerald, Duncan Davidson, Kerr Gibb, Louis Munro (Captain), Peter Campbell, Peter Grace, Robert Allan Dunnings, Garry Luke, Stephen Macnb, Iain Luke, Scott Murray, Sean Cameron, Tom Smith