Mille taing dha na Sgitheanaich airson tighinn a-nall!
Lots of action at Shawbost on Saturday, it was a tough workout against a high quality side but should hold us in good stead for the rest of the year. Congratulations to Kevin and Ruairidh on their goals.
One of the benefits of playing Skye is that they also have their own website and have already done a good report of the match, so here is a link to it.
http://www.skyecamanachd.com/news/lewiscamanachd2skyecamanachd10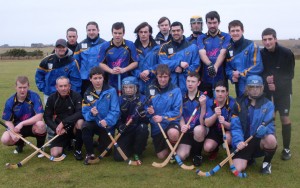 Camanachd Leodhais from:Euan Gilmour,Al Reed,Daniel Gallacher,Conor Macdonald,Paul Duke,Paddy Sinclair,Dougie Shaw,Michael Macleod,Donald Lamont(Capt.),Daniel McFadden, Ruairidh Urpeth,Will Church. Subs Connor Chalmers, Kevin Kennedy, Calum Blane, Dudley Johnson, Ryan McCafferty, Stuart Campbell.
Coinneach as usual took some excellent photos, see them here.
http://www.flickr.com/photos/coinneach_murray/sets/72157629070105125/
Congratulations to Scott as well who scored a point as Scottish Universities had an easy win against British Universities GAA in Dundee, winning 20-2.