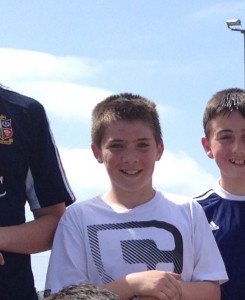 Congratulations to Scott MacLeod on being selected for the Skye & Wester Ross Select this year for the North Trials at Spean Bridge this Sunday 25th August. The action starts at 12 noon at Lochaber Camanachd's Park and the competition is sponsored by Ferguson Transport. The best players will be picked from SWR and the other three teams Badenoch, Lochaber and Inverness for the North v South game at the end of September.
Scott is a tough tackling player with good skill in the mould of his brother Michael who is a regular starter for the Lewis first team. Scott was an enthusiastic participant at the Shinty Summer Camp and a strong performer at the Far North Sixes.
Scott follows in the footsteps of Paddy Sinclair, who represented SWR at Under 17 level last year, and hopefully there will be many more Leòdhasachs at this level come next year.
Congratulations also to Kinlochbervie's Fraser MacDonald. KLB are included with the Badenoch squad. It is great that players from the peripheral areas are included in select squads and this will really help the standard in the home areas.
The full Skye and Wester Ross Under14 Squad is as follows:
1 Jamie Smith, Kinlochshiel
2 Morgan Fraser, Kinlochshiel
3 Chris Townend, Kinlochshiel
4 Duncan Campbell, Kinlochshiel
5 Fergus Dobson, Kinlochshiel
6 Lewis Macvicar, Kinlochshiel
7 James Pringle, Skye Camanachd
8 Connor Ross, Skye Camanachd
9 Anna Macdonald, Skye Camanachd
10 Ruaraidh Macleod, Skye Camanachd
11 John Macinnes, Skye Camanachd
12 Marcus Ross, Skye Camanachd
14 Mathew Young, Lochcarron
15 Chris Gunn, Lochcarron
16 Iain Arnott, Lochcarron
17 Scott Macleod, Lewis Camanachd
Coaches: John Macleod & Ross Macmillan