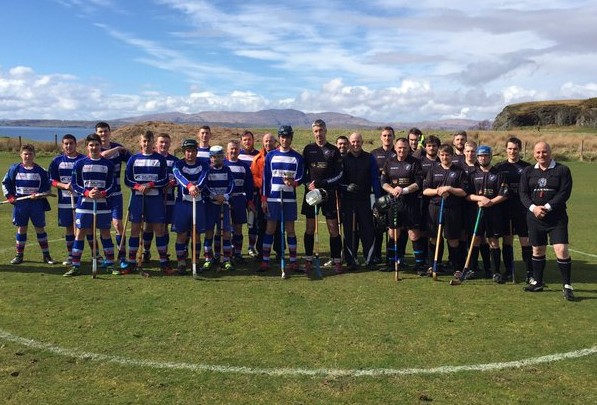 Some firsts; our first game in Oban, our first ever extra-time, our first ever competitive penalty shootout, but sadly not our first ever cup tie win.
It was a very wet Ganavan park that the game was played on, and perhaps if such a distance was to be traversed the game would not have gone ahead, but go ahead it did and it was a pulsating cup tie between two of shinty's newest clubs.
Lorn grabbed a goal just before half-time, but Dukey cancelled it out in the second half. The game then went through the entire 120 minutes of regulation and extra-time before a penalty shootout where we just didn't test the Oban keeper. A fuller low-down on the happenings can be found over at the twitter page twitter.com/lewiscamanachd.
A long way to go, and another match where we came up a little too short, but the boys are giving Duncan good effort and performances are definitely more consistent than last year. Next up, Lochaber in the league at Spean Bridge.
Anyway, we made a presentation of a quaich to Oban Lorn before the match and the Latharnaich are hoping that they can make the trip to Shawbost for a friendly in the future.
In other news, Under 15 training begins next Thursday 21st April at Stornoway Primary.