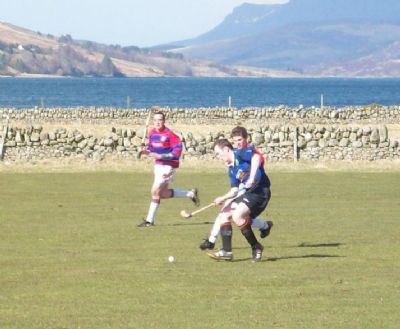 So a busy weekend ahead. Kingussie Colts will be over on Saturday for the Strathdearn Cup Second Round match. They beat Inverness in the first round. This will be the Badenoch giants' first trip to the island but not their first match against Lewis. They were our third ever competitive opponents in 2008 and they beat us a whopping 14-nil at Inverlael! Here is a young Kenny Mould battling gainfully to avoid becoming pixelated.
Our old friend Ronald Ross will be over with his team and we look forward to welcoming him and his side to Shawbost for a 2.30 throw-up. We would also like to send our best wishes to Jimmy Gow, who cannot make it due to ill health and we wish him a swift recovery.
Ronald has of course been over the Minch several times for youth development days, and we hope that the new Cupa na Sgire for district sides will be a big success for our Under 14 players.  This starts at 10.30am at Shawbost. Players can still be signed up via facebook.
Come along and support!