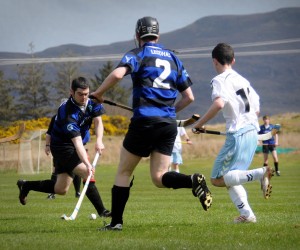 In May 2015, we published the following article which was a great reminder of the links and bond between Lewis and Skye Camanachds. We put a link to it here with us travelling to Portree this Saturday, as well as an update on last year's intra-Hebridean action.
In 2015, the two clubs played their first ever league games.  Skye were runaway winners of North Division Two and were a cut above Lewis in both games we played them.
In the first game, played at Pairc nan Laoch in Portree, Donald Lamont scored in a 6-1 defeat where Lewis showed up well. However, in the return leg in Shawbost, Skye put the hammer down and took advantage of a poor team performance by ourselves – with a goal by Will the only positive in a 9-1 defeat.
However, both games were played in great spirit and it is with great pleasure that we accepted Skye's invitation to play for the John "Kaid" MacLean Cup this Saturday in Portree.  This shinty trophy has as interesting and as chequered a history as the man who it is dedicated to, Gaelic poet and raconteur Iain "Kaid" MacIlleathain of Portree, who wrote the song "Eilean Mo Chridhe". More can be read about this great Sgitheanach character at the below link as well as in the late Martin Macdonald's "Skye Camanachd – A Century Remembered."