It's been a long January, with some terrible weather, but there has been plenty on the go in Dubh is Gorm country.
The night of the Iomain Challainn we held the Dinner Dance. The two have kind of gone hand in hand, since Sean organised a night out in the Clachan back in 2010, although the first proper one was held in Fortrose Lodge at the end of the historic 2011 seasons but this year we held it at the Golf Club for the first time.
We presented the Player of the Year Prizes, and Club Chieftain David Macdonald did the honours. Paul Duke was named Senior Player of the Year and Scott MacLeod retained his Young Player of the Year.
A great night had by all and everyone looking forward to an exciting year ahead.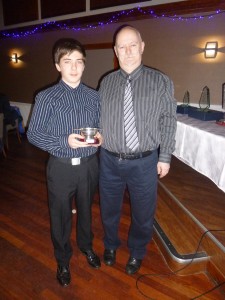 Training continues apace at all levels, with a new group starting up in Harris soon it is hoped. More details can be found on the Facebook Page about training times etc.