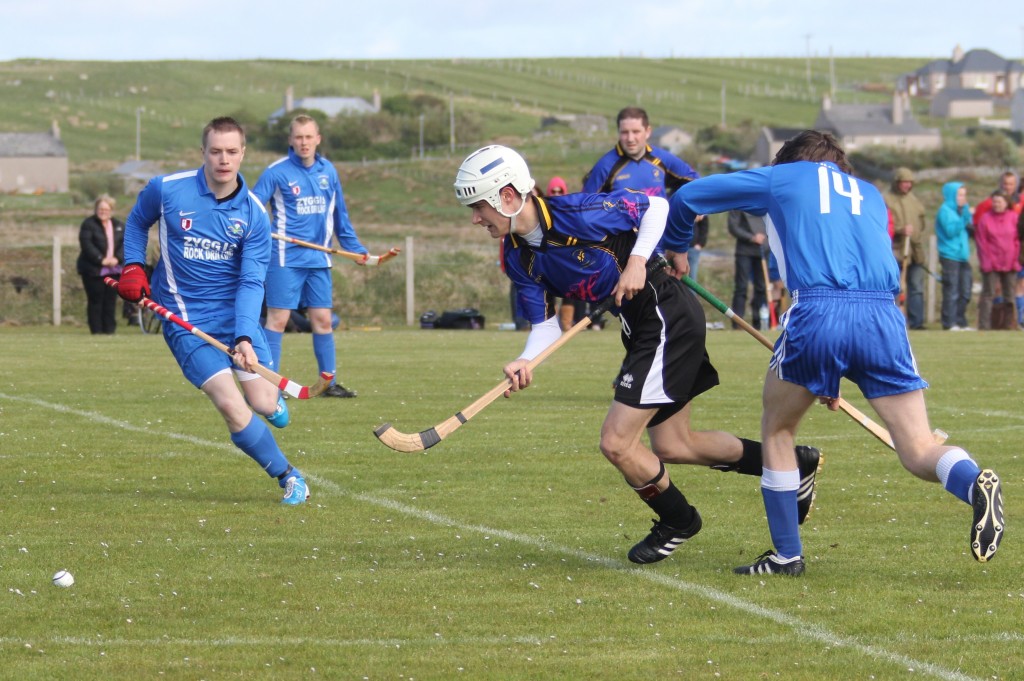 The first home game of the season – give or take a friendly or two held in February – is always an event which attracts a large crowd. The introduction of the return ferry to Uig from Tarbert on a Saturday means that teams can make the long trip to Shawbost in a day. Until Calmac get it sorted and it is possible to visit Lewis via Ullapool for more than an hour on a Saturday, it looks like that is the way teams will have to go but it is always an exciting time of the year after the long slog of away games from March to May.  In this article we will look at the various fixtures that have opened the summer season.
2011 was of course the first ever senior game of shinty played in Lewis under the auspices of the Camanachd Association. This game was held fittingly against Lochbroom and a crowd of up to 300 was in evidence on a beautiful sunny day at Shawbost. Unfortunately, a snafu with the goals, and various other teething problems left much of the team running round trying to get things done, and Lochbroom came out 7-1 winners. However, Scott Murray's goal was greeted with a great roar.  The sense of occasion probably got to the boys.
2012 saw Strathspey visiting and a poor performance, including a missed penalty saw us concede the points to the then new team on the block, gifting them their first ever league win 2-1.
2013 was a rollicking game against Caberfeidh, where we almost grabbed a draw against Caberfeidh, but the Strathpeffer team won 4-3 to cancel out goals by Will, Duncan and (no way!) Michael MacLeod.
2014 was supposed to see the club go head to head with Strathspey again, but for some reason, the Grantown side had agreed to the CA giving them a fixture before the change of timetable, necessitating an over night stay. The demands of this plus squad availability problems led to an unfortunate walkover to the Dubh is Gorm. So, the next game wasn't until two weeks later against Cabers, a poor Lewis performance after a lay-off, resulting in a 5-1 defeat, with only a Duncan goal to brighten the mood.
So the start of the home season has always been a mixed bag, but hopefully this week will see a good performance against Kilmallie and also a big crowd – home games last year seemed to coincide with out fail with miserable weather – but as they say there is no such thing as bad weather, just bad clothing. So come prepared. There is also a soup and sandwiches events in Ionad na Seann Sgoil beforehand for anyone travelling over to watch.
The game will also mark Paul Duke's hundredth game for the club, the first person to do so.. There is plenty that has been said about Paul's contribution to the club in other articles, but this is still an incredible achievement. We'd also like to thank Skye Camanachd for their hospitality last week in Portree – a class act of a club and a team. Best of luck to them as well as they mark Festerburt with Kingussie and the SCOTS this weekend.