To paraphrase Bruce Springsteen/Martha & The Vandellas,/The Stones, Summer's here, and the time is right for going shintying in the 'Bost.
That's right, our Homecoming fixture this year is against Strathspey this Saturday and the game will throw up at 2.30pm on the West Side Sward at Shawbost School.
Get along and support, the weather forecast looks very promising and a good crowd would be brilliant to try and help the boys get a home victory at the first time of asking this season. Let's paint Lewis and Harris dubh is gorm!
Training
Training this week will be circuits at the Primary School 7pm Tuesday and a recce to Shawbost on Thursday, heading from town at 6.30pm and leaving from Shawbost around 8pm. Youth training will still be happening on Saturday morning at 10am.
NY2SY – Best of luck to Niall Iain
One of our former players, Niall Iain Macdonald, is the only person with an excuse for missing the game this Saturday as he will at long last be making his journey to New York City to begin the epic NY2SY Solo Row in aid of SAMH and raising awareness of mental health issues.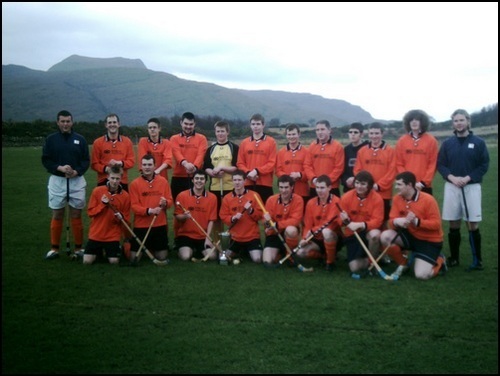 With quite a lot of reminiscing being done recently about the club's early years, we can fondly remember that in 2007 that Niall Iain took part in our very first game with Lochbroom, in particular his renditions of the Aberdeen FC songbook on the Calmac ferry home.
However, more seriously, when he fatefully went missing that May and matters were brought to a head, the club was playing Fort William in the Strathdearn Cup in Inverlael and it was a very concerning time for all players that our friend and team mate was still unaccounted for. Thank fully, Niall Iain returned safe and sound.
Niall Iain has worked tirelessly since then to raise awareness of mental health issues, first with the Row Across The Minch and then the road to NY2SY which has had a couple of false starts but is all set to roll (row?) once he touches down in the Big Apple. It really is a quite an incredible feat that he is attempting to achieve and we wish him all the very best.
Niall Iain should be back in Stornoway by mid-August, all being well, so we expect to see you at training then a bhalaich! Gur math theid leat!
You can find out more about the NY2SY Challenge and donate here http://www.ny2sy.co.uk/welcome