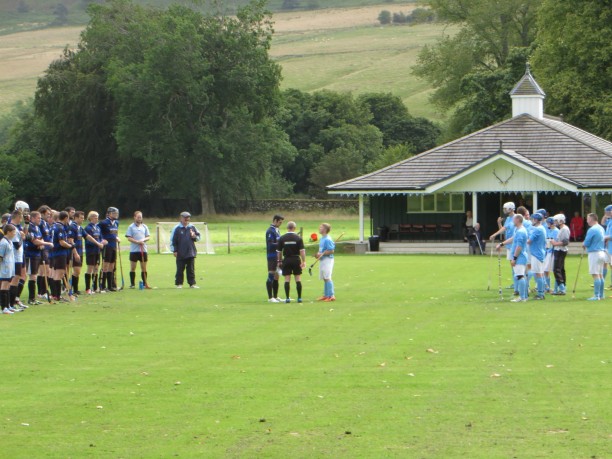 Saturday 7th May sees the first home game of the 2022 season. Always a marker of the historical nature of playing shinty in Lewis since the first home game against Lochbroom in 2011, it will also be the first competitive home game for Camanachd Leòdhais since a 2-0 defeat to Strathspey in July 2019. Uniquely up until this point, it will not be a league game either, but a second round fixture in the HIS Sir William Sutherland Cup against Caberfeidh.
The Caberfeidh club have always been great friends of Camanachd Leòdhais as befitting the home of the Ross-shire Camanachd Association as well. A warm welcome has always been had at Castle Leod as well as bonds made from Cabers many trips over the Minch when in the same league.
It's been a few years since the Dubh is Gorm faced off against Caberfeidh seconds but over the years there have been some cracking games between the sides so it's worth looking back at the history of the fixture since 2011.
Lewis first played Caberfeidh at Castle Leod on April 16 2011 in a 4-0 defeat. Cabers very much enjoyed their first ever trip to the island part of old Ross-shire, taking a large travelling support as they overcame the debutants 6-1 with Andrew Murray Macdonald scoring the only island goal. This was a great bonding experience and Caberfeidh's steadfast support was greatly appreciated when the Camanachd Association's probationary period was reviewed.
2012 saw Will Church and Calum "Stompy" Stamper push Cabers all the way before the team went down to a 3-2 defeat in Strathpeffer, whilst Donald Lamont was both saint and sinner, scoring then being sent off at home in a 5-1 defeat at Shawbost.
2013 was a great season for Camanachd Leòdhais as they became accustomed to league play. None more striking in how well they played against Caberfeidh. Cabers were lucky to come away with the win as Will, Duncan MacIntyre and Michael MacLeod all score in a 4-3 thriller in Shawbost, but then Lewis got their first ever point in a 2-2 draw at Castle Leod thanks to a fine performance that saw Ally Lamont grab his first goal for the club in addition to Duncan's 13th of the season.

In 2014 the sides faced off four times in the league due to the Strathspey-inspired split (ironically Strathspey are the only other team to have played a cup match in Lewis, a Strathdearn tie in the same season, but scratched both league matches including the one post-split) The post-split result which secured Lewis finishing second that year was a famous 3-0 victory against Cabers who only required a point that day to secure the title, Duke, Ally Lamont and Church all scoring. A famous day for the Dubh is Gorm.
A couple weeks later Lewis were the visitors but could do little to stop Cabers from crowning being presented with the North Division Three trophy (the last North Three Champions to date) at Castle Leod with a 5-0 win. The hosts were very happy to allow the visiting Leòdhasaich a taste of the whisky from inside though.
The next year Cabers were unexpectedly in the same league as Lewis again thanks to league reconstruction and an early summer season defeat in Lewis was forgotten a few weeks later when Cabers were beaten 1-0 on their home patch thanks to a Will Church opener and a robust rearguard action, as epitomised by this iconic shot of Innes Lamont.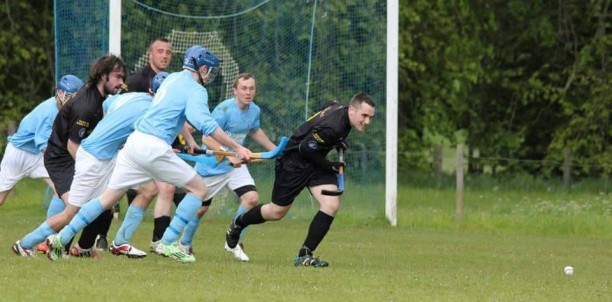 In 2016 a very disappointing season opener which saw a 9-0 collapse at Castle Leod was however matched with a well fought 2-2 draw at Shawbost thanks to Connor Chalmers and Kenny Murray.
2017 saw Kieran Macdonald score the only goal for Lewis in a 4-1 defeat at Cabers in addition to losing 3-0 at home after the initial fixture which was scheduled as the first home game of the season was postponed.
And in the most recent fixtures to date in season 2018, which saw Cabers win North Two this time, Lewis also bagged a fine 3-3 draw on the island thanks to a Dukey hat-trick, and at least grabbed a couple goals via Michael Macleod and Ally Lamont when they shipped 10 at Castle Leod.
Over the years, the club has also sent youth sides to the Ross-shire Camanachd Sixes at Castle Leod due to Lewis traditionally being part of Ross-shire and this has been an important opportunity for some much needed competitive youth shinty.
Camanachd Leòdhais V Caberfeidh Results since 2011
2011 Cabers 4 Lewis 0; Lewis 1 Cabers 6 (North Division Three)
2012 Cabers 3 Lewis 2; Lewis 1 Cabers 5 (North Division Three)
2013 Lewis 3 Cabers 4; Cabers 2 Lewis 2 (North Division Three)
2014 Cabers 2 Lewis 1; Lewis 1 Cabers 5; Lewis 3 Cabers 0; Cabers 5 Lewis 0 (North Division Three)
2015 Lewis 1 Cabers 6; Cabers 0 Lewis 1 (North Division Two)
2016 Cabers 9 Lewis 0; Lewis 2 Cabers 2 (North Division Two)
2017 Lewis 0 Cabers 3; Cabers 4 Lewis 1 (North Division Two)
2018 Lewis 3 Cabers 3; Cabers 10 Lewis 2 (North Division Two)
This will be the first meeting of the sides in Cup action. This will be the second of three games in the cup this month. Last Saturday a young Lewis team battled strongly but eventually succumbed to a 5-0 scoreline against Kinlochshiel at Reraig in the Strathdearn Cup. Next weekend the club reacquaints itself with Boleskine in the as yet unnamed Single Team Club Cup.