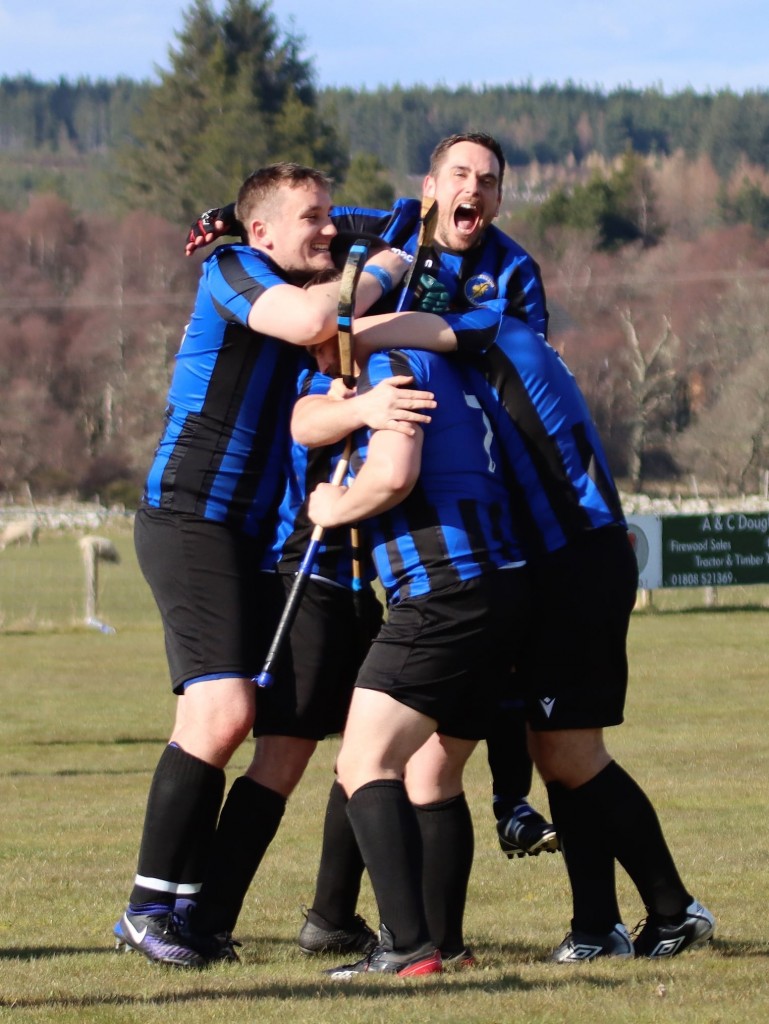 On our nineteenth attempt, stretching back to our very first ever game on 5th May 2007, we have finally won our first ever national cup game!
As is par for the course, we did it the hard way!
We were 2-0 down at half-time to Boleskine Camanachd Club having missed a penalty, but came back to level it at 2-2 following an Ally Lamont strike & then Scott MacLeod showed no fear after his earlier penalty miss as he stepped up again to equalise from the spot.
We hit the woodwork three times & should have probably had a third penalty in the last minute of normal time but after extra time, honours were even & it came down to a penalty shootout!
Stuart 'Tyson' Campbell saved all four penalties he faced & whilst we contrived to hit the woodwork for a fourth time during the shootout, converted penalties from Scott & Paddy Sinclair were enough to see us through & the celebrations began! There was some write-up in the P&J!
It was an excellent advert for the sport. Both teams fought tooth & nail for 120 pulsating minutes & it was a shame one side had to come out on the losing end. There were three photographers at the game & the match was filmed for YouTube so they must have known we were going to produce a cracker!
A huge thank you to Boleskine for the warm hospitality we received & we look forward to meeting again later in the season.
Camanachd Leòdhais and the Cups – A Long Hard Road
Camanachd Leòdhais is of course defined by the struggle and triumph of securing league status despite all the odds in 2011.
The foundation and the strength to win that battle however came from the long four years as a senior club playing as a purely cup based team from 2007.
The cup adventures lasted for four years, and the spirit of Camanachd Leòdhais was forged through the hardships of facing off against battle hardened clubs playing 20 games a season against our three or four. They were very tough experiences for everyone involved.
In classic Lewis style, even the first game was a logistical nightmare being a four day trip away to Glasgow Mid Argyll. A slow first twenty minutes saw the club 4-0 behind, but Paul Duke's missed penalty just before half time has haunted the club legend for years! It wouldn't be a Lewis game without some esoteric news coverage so this blog has some very blocky action pics!
Always playing from home, borrowing Inverlael from Lochbroom if we received a "home" tie, there were several heavy defeats. These drubbings were hard to take but even in them the club found strength. The 2010 defeat against Skye which led directly to the decision to enter into the leagues, the fact that in 2009 the club's first ever competitive goal came in a 20-1 reversal to Fort William. The fact that often the club survived these years with a player pool of around 15-16 is a marker in itself and certainly has helped with the resilience of our club which has never conceded a game in 15 years.
Cup shinty did take a back seat in the first few years of the league campaigns, with a return in 2014 to make up for a six team North Division Three (the club played in three tournaments that year, including Lovat in the unlamented Strathdearn Plated).
The club took a year off from the cups again in 2015, but since re-entering in 2016 the club has had some moments where one might start to think there was truly a hoodoo – favourable cup-draws against Oban Lorn resulting in penalty heartbreak in 2016 at Ganavan, and a hard to take extra-time defeat to Inverness in 2017.
However, there are also a lot of times where the Camanachd Association's balls have been unkind with strong teams from the league above most often on the opposite side. It's a little known fact that Kingussie is the side that Lewis have faced in cup competitions more often than any other club, but then they've never won the Mòd Cup so we'll call it even!
Talking of other cups, Lewis will face Boleskine again in the long awaited Single Team Club Cup later on this season, and the old rivals will surely be out for revenge but it's a great but overdue initiative by the Camanachd Association. Until then however, the monkey is well and truly off the Dubh is Gorm back and we look forward to a true Ross-shire Derby with Caberfeidh in Round 2 in May 7th, as well as the week before a first ever competitive match against Kinlochshiel at Reraig in the Strathdearn Cup on April 30th.
Camanachd Leòdhais National & North Cup History
2007 v GMA 0-6 (Sutherland)
2007 v Fort William 0-11 (Strathdearn)
2008 v Kingussie 0-14 (Sutherland)
2008 v Lochcarron 0-9 (Strathdearn)
2009 v Aberdour 0-5 (Sutherland)
2009 v Fort William 1-20 (Strathdearn)
2010 v Inveraray 0-8 (Sutherland)
2010 v Skye 0-18 (Strathdearn)
2014 v Lovat 1-7 (Sutherland)
2014 v Strathspey 0-6 (Strathdearn)
2014 v Lovat 0-10 (Strathdearn Plate)
2016 v Oban Lorn 1-1 lost on penalties (Sutherland)
2016 v Kingussie 2-9 (Strathdearn)
2017 v Inverness 2-3 AET (Sutherland)
2017 v Lochaber 0-9 (Strathdearn)
2018 v Beauly 0-5 (Sutherland)
2019 v Kingussie 1-4 (Sutherland)
2019 v Lovat 1-6 (Strathdearn)
2020 v Glenurquhart (Strathdearn) and Glenorchy (Sutherland) Cancelled due to COVID19 Pandemic
2022 v Boleskine 2-2 won on Penalties (Sutherland)