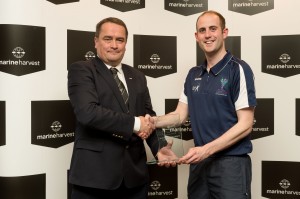 Camanachd Leòdhais received more national recognition at this year's Marine Harvest Shinty Awards, which were held as always in conjunction with the Marine Harvest Shinty Hurling International Series in Inverness.
We were given the One Team Club Fair Play Award for 2013, having the lowest number of bookings throughout the year. The club  reviously won this award in 2011 during our debut league season. The award was presented by Alan Sutherland of Marine Harvest.
President of the Camanachd Association, Archie Robertson, paid tribute to the spirit with which we play the game but also humorously noted, "The park at Shawbost is so windy that perhaps the referees are too scared to take their cards out of their pockets in case they blow away!"
Unfortunately, "Diablo"  could not attend the awards dinner due to the Isle of Lewis breaking down, so the award was picked up by  Eòghan Stewart in his stead. Eòghan was in attendance as he was assistant coach for the National Women's Shinty Squad, assisting Glenurquhart's Stuart Reid who helped steer the Scotland Ladies to a 13-11 win over Dublin County Camogie on the Saturday morning.
Eoghan added "It was a great pleasure to be involved in the international set-up and to work with Stuart, and the other assistants, Scott Campbell and Yvonne Bowman. The squad had great qualities of dedication and skill which every shinty player should have and their performance was one of grit and determination. Also proud to have represented Lewis Camanachd whilst coaching, and hopefully we could see more women in Lewis involved in shinty."
Unfortunately, the senior and u21 men could not add to the achievements of their female counterparts, although both teams made great efforts in trying to overcome the Irish hurlers, the senior men losing 18-14. Kevin Bartlett, formerly Caberfeidh, now Lovat was the standout for Scotland with 12 points of the Scots' total. If we could please find him a Leodhasach girlfriend that would be great!
You can find lots of shinty photos at http://www.neilgpaterson.com.