Fàilte air Comann Camanachd Shasainn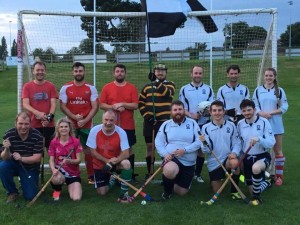 The Club has some very special guests who have travelled a long way to play shinty this Monday.
The English Shinty Association's annual tour of Scotland brings them to Bayhead on Monday night at 7pm for a challenge match. This will be the first ever meeting of the clubs, but is also in the grand tradition of previous touring sides, SCOTS in 2009 and Northern California in 2011, and St Andrews University in 2014.
They make the trip to Lewis as part of their 2017 summer tour. Having already played a warm up game in Lymm, North West England on Thursday against the North Shinty Club, they then travelled on to Kingussie to play a host of legends from their 90s team and current first team players in a 11-1 defeat. Their tour continues Saturday as they take to the field to battle Fort William after the 2017 Sutherland Cup final. On the Sunday ESA travel up to Inverness for the annual 6 aside tournament. The minibus full of players will then travel to Lewis, Uist, Skye and GMA for their remaining fixtures of the 2017 tour.
This has been the 3rd ESA tour since they established the administrative body for Shinty in England in 2013. In 2016 a Camborne School of Mines University team from Cornwall fulfilled the 2016 tour meaning since 2013 their has been an annual tour of Scotland by English opposition. ESA regularly travel upto 2000 miles each for their tour and countless more for sixes tournaments as well a entering men's and women's sides in the Bullough Cup and Marine Harvest Challenge Cup.
There a couple of ESA links with Lewis, Matt Mossop of Cornwall and Graham Love of London visited in 2013, Matt refereed the HebCelt and Graham played for Uist. Also Joseph MacInnes of Uist, who played for Lewis last season is now at Uni in England and is playing for ESA.
In England, the ESA is the driving force and organiser of much of the shinty competition that has been springing up again soith of the border since the mid 2000s. There are three main clubs in England, the venerable London Camanachd (who now have regular opposition for the first time in 100 years!), Cornwall Shinty Club founded in the late 2000s, and Oxford Shinty Club setup in recent years. There are also various other teams, including the North, who compete. There are two league structures in England. The South West Shinty League with a comprehensive fixture list of home and away fixtures. Originally based in Cornwall, it has expanded so that the 2017-2018 season will see 7 teams from Bristol to Falmouth battle it out. ESA also host the East and West Tri-series and the annual English Shinty Festival for Mixed and Ladies teams.
London, Cornwall and Oxford host their own tournaments throughout the year. The next tournament in England is the London Shinty Festival on 7th October followed by the Lownederperan Festival in Newquay, Cornwall over 4th-5th November. Both tournaments accept clubs from North and South of the border.
Hopefully, we can one day return the favour and take the long road south. Find out more at englishshinty.com
Camanachd Leòdhais v English Shinty Association
Bayhead, Stornoway, 7pm Monday 31st July