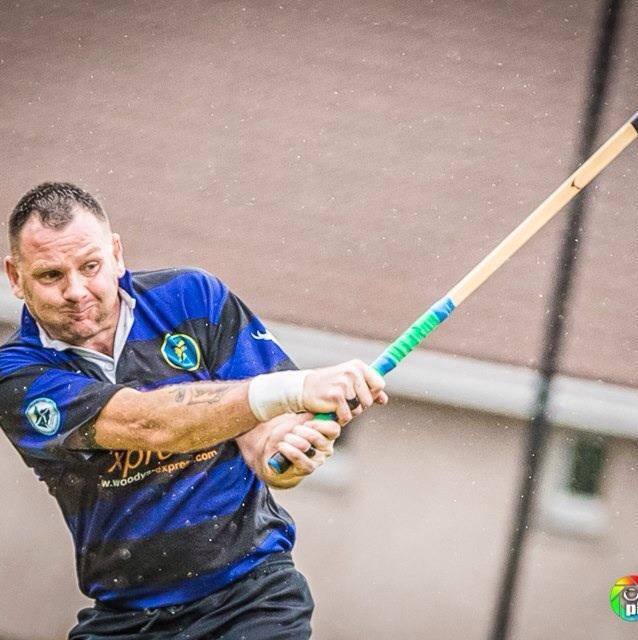 Last night's AGM was marked by the retiral of club legend Duncan MacIntyre. Duncan will be stepping back from both playing and coaching duties but we hope that he will continue to be involved in shinty in Lewis & Harris in the years to come to some extent.
Duncan's voyage in shinty started off with Glengarry, and his time with the Lochaber club bred in him a toughness, growing up and playing representative shinty and playing alongside several famous names. Marriage brought Duncan to Lewis eventually and he has played an important part in the development of the sport in the islands. However, he was also absent for a few years, and this story blends with the great narrative that is Lewis Camanachd.
Duncan played a key role in the club's very first season in 2007 on the park, and was looking forward to assisting the young side in their cup fixtures in 2008, when disaster struck. MacIntyre's newly built house in Lochs burnt to the ground. The only worldly possession he salvaged from the fire was a pair of the famous Lewis black shorts. Until the end of his career he wore the same pair in every match.
The time constraints of rebuilding his home as well as a new job and busy family life, meant that Duncan found it hard to commit to shinty. (A HebCelt Cup win in 2008 his only game before 2012), and concerns about his knees kept him off the park. A changed diagnosis and the fact that Lewis were gaining a lot more games with league status meant that he couldn't resist the drug of shinty much longer. Soon he was back on the phone to then-manager Paul Duke and grabbing his caman out the pickup once more.
Having played his whole career as a defender, when he made his comeback in 2012, it was as a forward. He made a goal-scoring return to the sport against Beauly, and although no more goals came, towards the end of his comeback season, there were signs that he was starting to find his groove.
In 2013, in tandem with Will Church, the two struck up a productive partnership, the tough and wily veteran meshing with the athletic late-convert to the sport of the Gael. He finished the season with two hat-tricks to his name (and a fourth goal for good measure against Uist), and an overall total of 13, one behind Will.
In 2014, Duncan was named Captain (with assistant manager duties), for what would prove to be his swansong season. Although he did not achieve the same goalscoring feats as 2013, he still bagged five over the season with an incredible hat-trick against Inverness at the Bught Park and the opener against Uist in the HebCelt Cup the highlights. He was a vital fulcrum at full-forward for most of the season, as well as leader on and off the park. It wasn't until one of his final games at Shawbost this year, when it came to light that Duncan was now into his 50s, an inspiration to play alongside and to know.
Everyone at the club wishes Duncan all the best for the future – guma slàn leibh a Dhonnchaidh, a h-uile latha a chì is nach fhaic.
Below is a link to an article from the Gazette at the beginning of this season:
http://www.stornowaygazette.co.uk/sport/local-sport/camanachd-leodhais-skipper-raring-to-go-1-3329446
Photo – Colin Cameron Photography