Our end of season awards dinner took place on Saturday 19th November after the Craig Morrison Sixes.
PLAYER OF THE YEAR FOR 2022 – SCOTT MACLEOD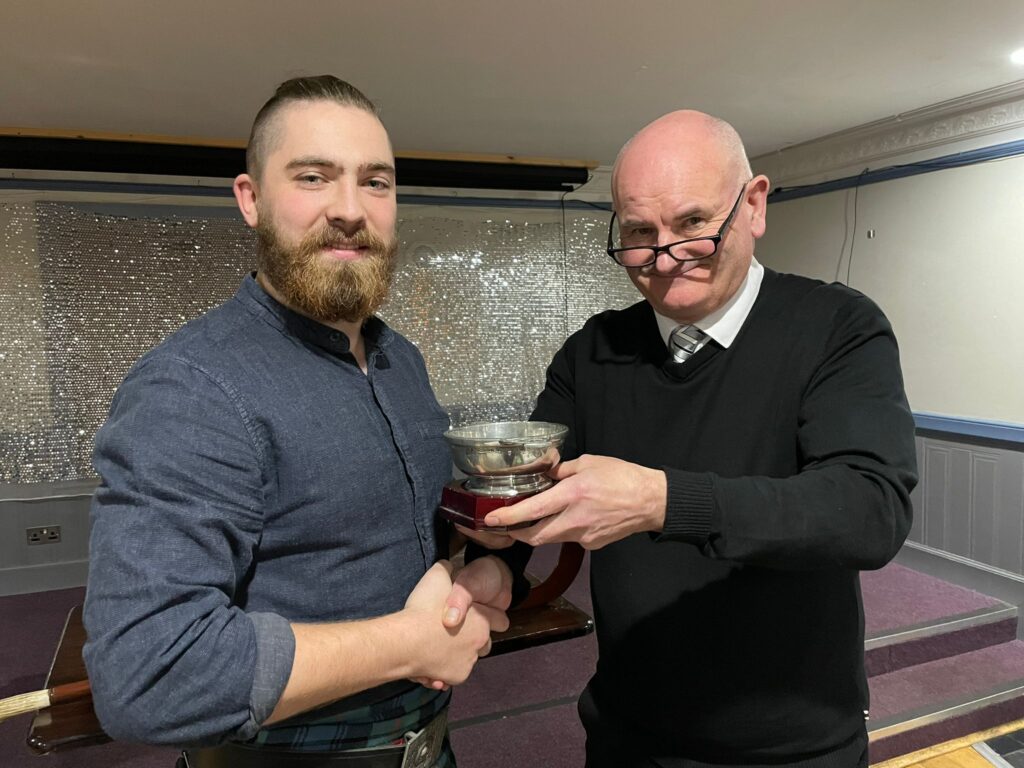 Perhaps an indication of just how strong a year we had, eight different players received votes in the ballot for player of the year but when the dust settled, there was one clear winner & that man was Scott MacLeod. Scott received his award from club chieftain Iain 'Diablo' Sinclair.
Scott played in all but one game for us in 2022 & was a true model of consistency. If he wasn't putting in a man of the match performance, he wasn't far away.
Scott cracked 100 appearances for the club this season at only 21 years of age, particularly impressive when you remember we only played one game of shinty in 2020 & three in 2021.
Scott continues to be an example to the rest of the squad. He always plays shinty in the highest of spirits, runs himself into the ground, tackles hard, is incredible at shying & is a penalty taker extraordinaire!
This is Scott' second POTY in the last three full seasons. He is tied in second place with Scott Murray & Paul Duke & is now just one behind Daniel 'Gaga' Gallagher who has won it thrice.
UNDER-18 PLAYER OF THE YEAR FOR 2022 – DONNY MURRAY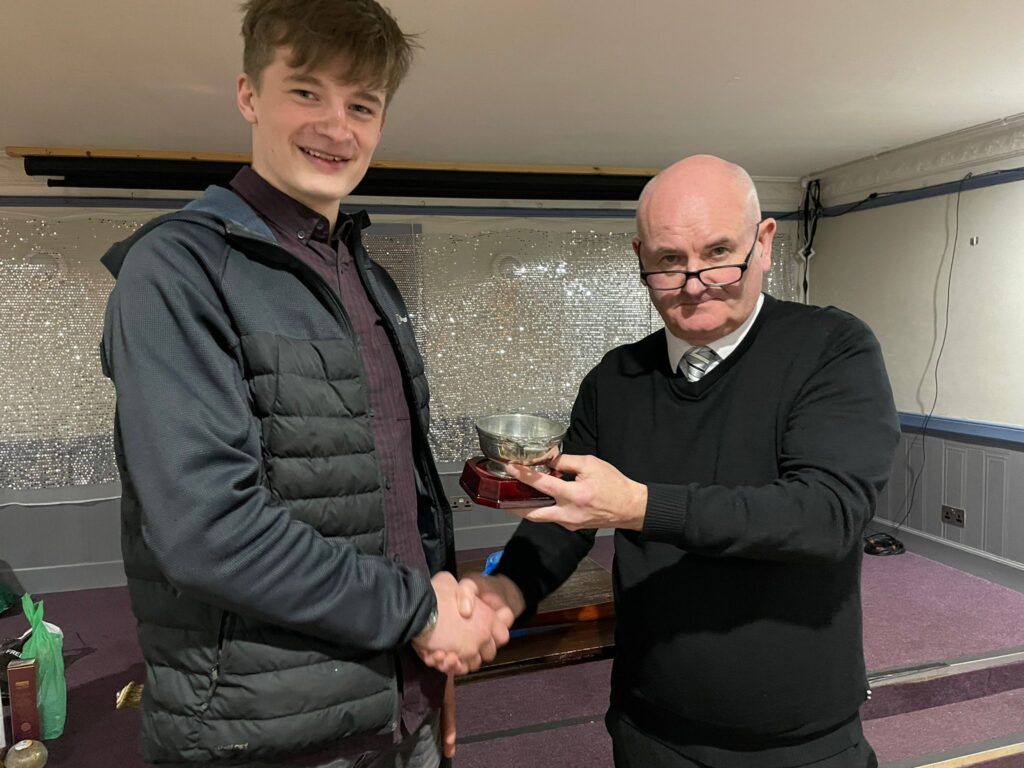 When 2022 started, Donny was a young 15-year-old scrapping for minutes at wing forward in his first full season with the team. By the time the season was over, he had grown physically to become one of our tallest players & he had grown so much as a player that he became a fixture at wingback & was arguably our best defender over the final stretch of the season.
A tenacious tackler who never stops running, Donny had a fantastic season & should go from strength to strength as he continues to pick up experience in senior shinty.
He was presented with his well deserved award by club Chieftain Iain 'Diablo' Sinclair.
CAPTAIN'S PLAYER OF YEAR AND MANAGER'S PLAYER OF YEAR AND RECIPIENT OF THE SHAW CAMAN – DANIEL GALLAGHER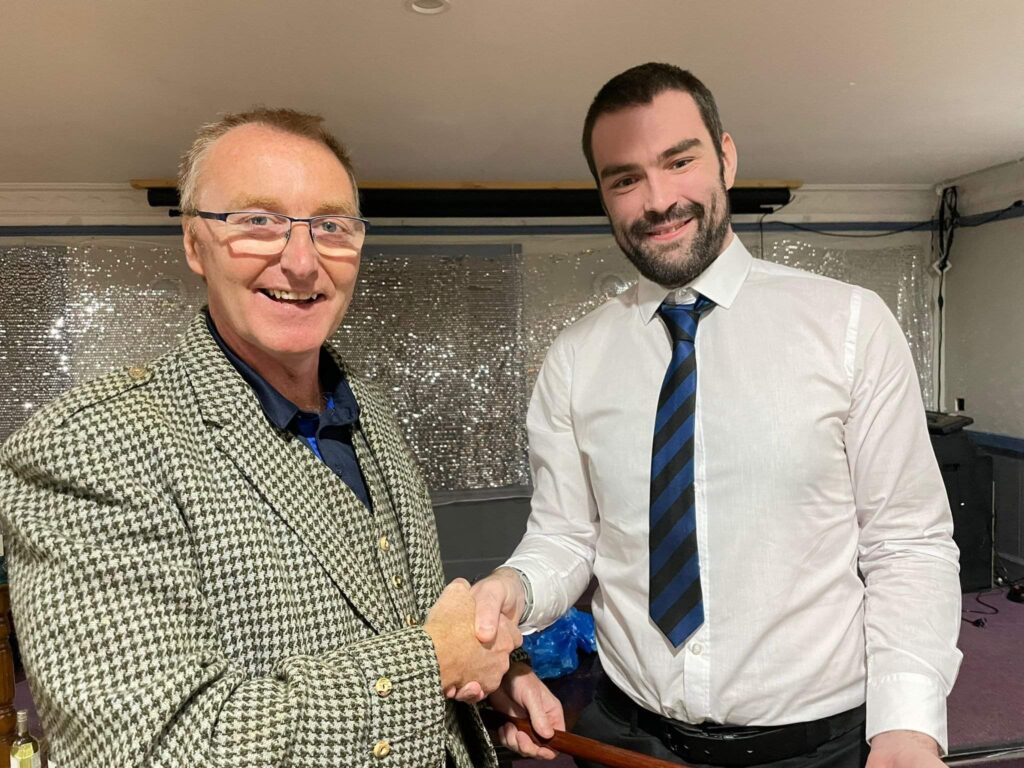 15 years after winning his first Player of the Year Trophy (which he has won three times in total including 2008 and 2013), club legend Daniel 'Gaga' Gallagher completed a career clean-sweep of the club's POTY awards as he was named retiring manager John MacAskill's Player of the Year, receiving the Ceremonial Caman from the 1968 Macaulay Cup Final, presented to Donald Shaw, Kyles Athletic – donated to the club for presentation by his son, Dougie Shaw, as well as receiving the Captain's Player of the Year after being named by long serving captain Donald Lamont.
Gaga continues to be an inspirational figure for the club, a fierce opponent who is well respected amongst full-forwards across North Division Two and remains a constant link to the original Back Camanachd and Lewis Camanachd teams of the 90s and 00s.
OTHER AWARDS
Donald Lamont was presented with a token to recognise being the first Camanachd Leòdhais player to score 50 goals (Donald finished the season on a Lewis Camanachd career total of 53 goals, and his 50th goal came in a fine hat-trick at the Bught Park against Inverness) and Paul Duke for scoring 25. Both players have been important figures on and off the park over the history of the club as a senior team and their goals have been a major part of famous Camanachd Leòdhais victories. Donald finished the season as joint top scorer with his brother Ally.