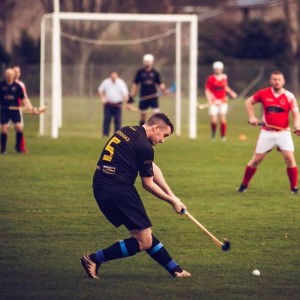 Congratulations to Ally Lamont on winning the 2017 Donella Crawford Award for Youth/Schools at the Marine Harvest Shinty Awards in Inverness. This national recognition of the incredible amount of work done by Ally in his time back in Lewis is well-deserved. He has gone over and above the call of duty to leave a legacy of enthusiastic and talented youngsters who have already started to show they are the future of Camanachd Leòdhais.
It is a heavy loss for the shinty community, and indeed the wider community, in Lewis & Harris that this talented and capable young Gaelic speaker is unable to secure a teaching position in his homeland but we wish him all the best in Mallaig, and we look forward to him continuing his playing career in the Dubh is Gorm next season. Ally was recently awarded Player of the Year and Manager's Player of the Year at the Camanachd Leòdhais awards dinner.
The Club also shared the One Team Club Fairplay Award with Lochcarron Camanachd which Ally also collected. The club has won this award on several occasions and we would like to think that it is a testimony to the spirit in which we try to play the game win, lose or draw. Congratulations to Lochcarron as well, as well as to all the other award winners.