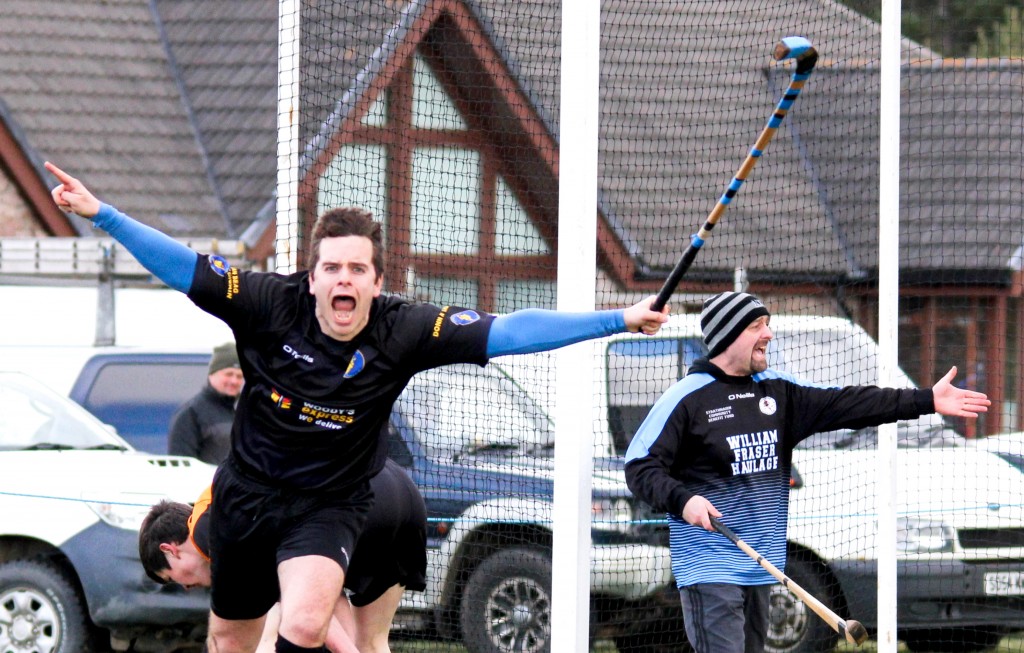 Yes, it's that time again when a club stalwart gets hitched and we roast/pay tribute on-line then stand outside the church with some camans in a ceremonial and solemn fashion. This time it is the turn of Donald A. Lamont, the oldest of the four Lamont boys.
A passionate man, Donald loves Rangers, Point, and Social Democracy, but Shinty definitely holds its own amongst the loves of his life. But now there is a new show in town, and it is Miss Emma Louise MacInnes of Uist. More on her later, but let's plunge into the depths of "Archie" and his shinty career.
Donald played some youth shinty back in the early days of the sport returning to Lewis, and he played some games for the old model Lewis Camanachd back in 2005 against Lochbroom and Uist.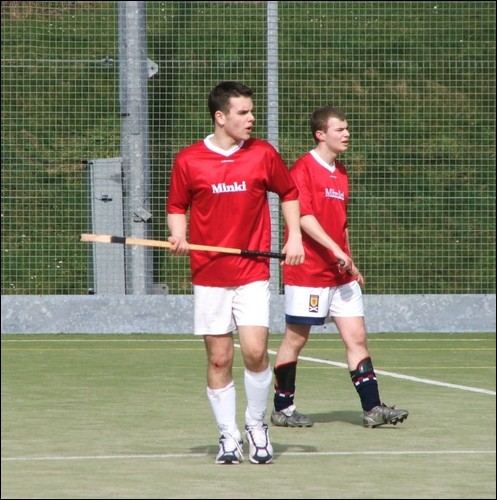 Donald then left the island to study at and play for Aberdeen University where he rose to become Club Captain, agonisingly missing out on a North Division Three medal after a play-off with Lochaber in 2010. During his mainland time, he also kept in touch with the club that was growing slowly back home, and played in both games of the 2008 HebCelt Cup, which was run as a two legged affair that year. However, Donald's Aberdeen Uni commitments kept him away from the club's cup travails.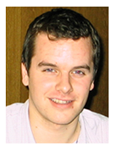 Yet, Donald returned to Lewis to a play a major role for the historic first league season. Working in TV, which got him the gig as presenter of Trusadh:Dubh is Gorm, 2011 saw him finish as top-scorer with a peach of a goal against Uist a real treat. His mainland club experience helped the club through a challenging but exciting first season, which culminated in the lifting of the Mòd Cup at Lionacleit. (7.30)
2012 was a season of contrasts. Donald holds the ignominious title of being the first (and so far only) Camanachd Leòdhais player to be sent off. Coming just after scoring a rocket against Cabers, Donald didn't take too well to Denzel's attempts at a rough wooing, the rest is history as Donald has never troubled the officials since. Donald's only other goal that year was in the draw against Strathspey, but it was a season where the team in general struggled in front of goals and Donald played an important link up role that saw us finish 8th in the league.
However 2013 saw Donald's personal form in front of goal suffer, with a scrappy goal against Uist all his reward for a season of toil, until a crucial final day equaliser against Inverness ensured the Leodhasaich avoided bottom spot. The reason for Donald's disappointing form was hard to diagnose but when he realised that it was due to a deterioration in his eye-sight, he grabbed a pair of contact lenses and he has never looked back! Thankfully for Emma he still liked what he saw!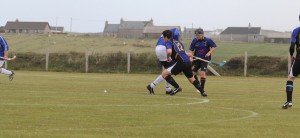 Eyesight improved, and love life going strong, Donald returned to scoring form in 2014, also getting engaged and has carried that into the 2015 season, as well as adding a strong block to his overall game. The recent win over Boleskine was a top performance from the big man, evidenced with what will surely become an iconic goal celebration in the years to come!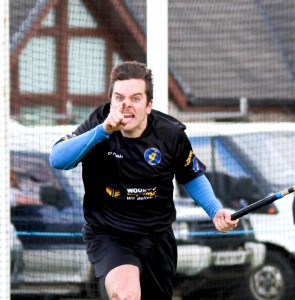 Donald does a power of work off the pitch, he has been fixtures secretary and has driven the minibus from Ullapool and to Tarbert. He is also proud to have two of his brothers Innes and Ally playing an important role in the side, although we've never quite got Stuart into the Dubh is Gorm.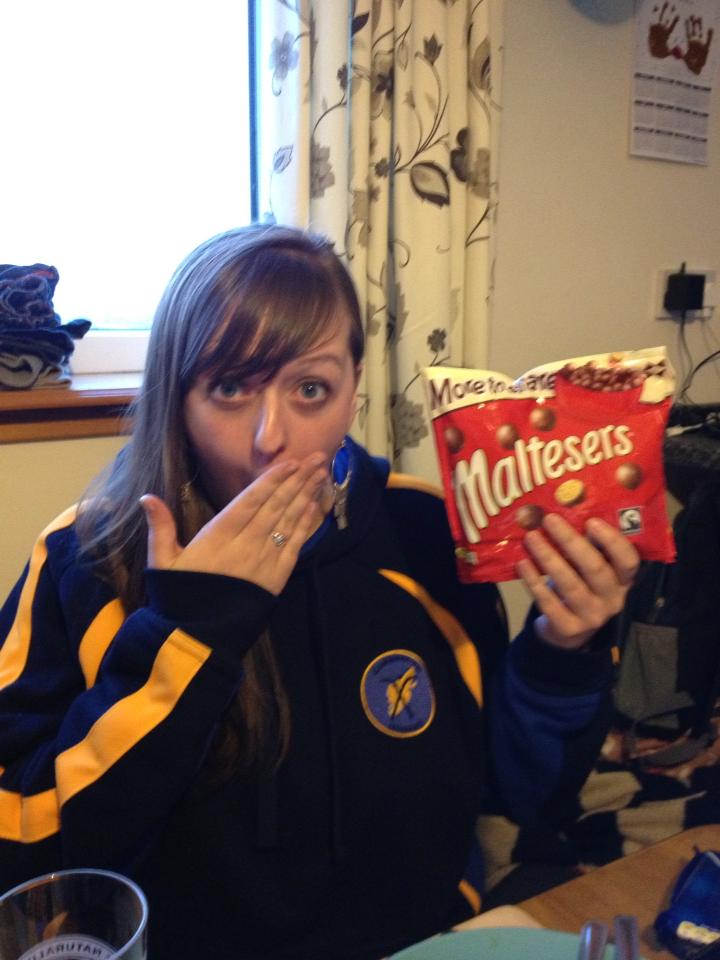 Onwards to his blushing bride. Emma has been a big supporter of the club, even preferring the Dubh is Gorm over her own native Uist Camanachd. She very rarely misses a home game, and makes many
journeys to away games and we value her, and all our followers', support throughout the years. Both are fixtures on BBC Alba and BBC Radio nan Gaidheal, Donald working for news and Emma making her fame in the world of music broadcasting on Rapal. Donald has been based in Inverness recently, but any opportunity is taken to return to talamh trocair and attend training.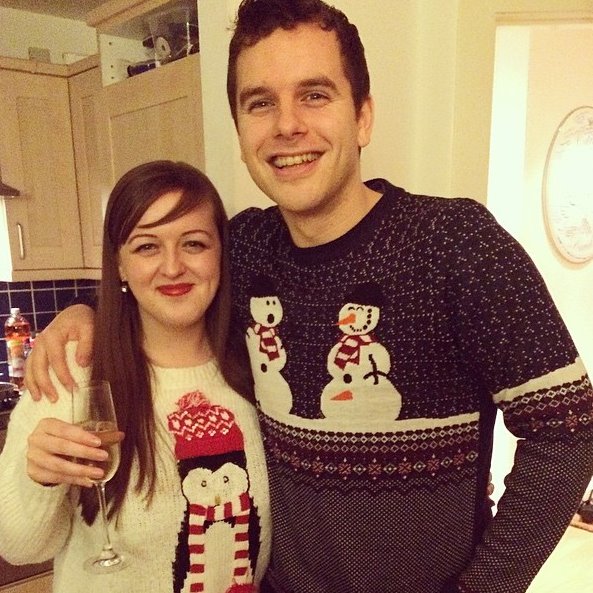 We wish the happy couple all the best, and the marriage of this Media Power Coupling, which is the final event of the Celtic Media Festival this week in Inverness will surely be one for the books.
Gur math thèid leibh a Dhòmhnaill agus Emma! Gach beannachd!
Oh yeah and that time he totally left the strips in Storno. Don't do it with the ring Eardsaidh! (1.29)