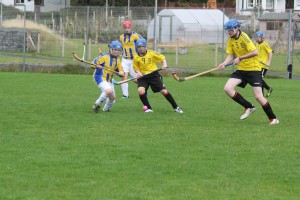 Whilst the seniors are well into preparations for the new season already. Let's not forget the valuable work being done at the different youth levels.
At present training for primaries continues at Stornoway Primary every Wednesday with Connor Chalmers assisting Iain Sinclair ( this is held indoors at present). Sixteen regularly attend & an inter school tournament with other local schools who have participated in taster sessions  is planned for the New Year.
In the secondary 20 S2 pupils are taking shinty every Friday afternoon outdoors with Iain and youth co-ordinator Sean MacLeod. Iain also runs a lunchtime indoor session every Thursday at The Nicolson. Around 12 attend this session.
Finally we have youth training for primaries and lower secondaries every Saturday morning (indoors at present) at the Sport Centre. Al Reid and Boyd MacKenzie all chip in alongside Iain and Sean. Around 10 attend this session with people travelling from as far a field as Harris, but the club could always do with more players turning up to this Saturday event.
The club is working with the Camanachd Assocaition and is hopeful that an island development league will be put in place for 2014, hopefully with teams from Uist, Harris and Skye.
Over and above that youth teams will hopefully again compete in the Scourie Sixes and The Berneray Causeway Trophy, as well as other competitive opportunities, as and when these might arise.  The club also hopes to run another Shinty Camp in the holidays next year as well as continue its links with Feis Eilean Na Hearadh.
NEW PLAYERS OF ALL AGES ALWAYS WELCOME – An t-Ionnsachadh Og, An t-Ionnsachadh Boidheach