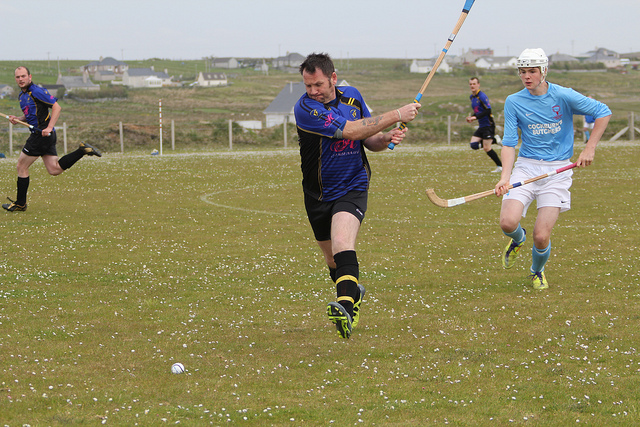 We welcome the newly crowned Marine Harvest North Division Three Champions Caberfeidh to Shawbost tomorrow for the second time this season, as we enter the post split fixtures. We will face Cabers again at Castle Leod before the season is out.
Cabers have been fine opponents and great friends to Lewis Camanachd ever since our accession to the league. Perhaps, this is due to their strong role in the Ross-shire Camanachd Association and respecting the old allegiance of Lewis to Ross-shire and the links with the Seaforth MacKenzies, or just that they are a great shinty club, who have a fantastic community spirit and love for the sport, which they also see in ourselves.
Fixtures between the clubs have for the most part been tightish affairs, but yielding only one point for the Dubh is Gorm. Hopefully, we can grab a couple before Caberfeidh disappear over the horizon. We hope to see them again soon, but with ourselves joining them in a higher league one day. Congratulations to the Cabers, Toss Thine Antlers.
Throwup is at 2.30pm at Shawbost.
A list of Lewis Camanachd v Caberfeidh fixtures since 2011
(Lewis goalscorers in brackets)
2011
Cabers 4 – Lewis 0
Lewis 1 – Cabers 6 (Andrew M. Macdonald)
2012
Cabers 3 – Lewis 2 (Will Church, Stompy)
Lewis 1 – Cabers 5 (Donald Lamont)
2013
Lewis 3 – Cabers 4 (Michael Macleod, Will Church, Duncan Macintyre)
Cabers 2 – Lewis 2 (Duncan Macintyre, Ally Lamont)
2014 so far
Cabers 2 – Lewis 1 (Kenny Murray)
Lewis 1 – Cabers 5 (Duncan MacIntyre)