Saturday saw another great game of "Iomain Challainn".  Despite the weather, 17 players turned up with the juniors being especially well represented.  Teams were picked between Daniel "Gaga" Gallagher and Scott Murray with Gaga's side edging out in front after a close game and a few goalmouth scrambles – final score 4-3.
Iain "Diablo" Sinclair managed to find a gold medal down the back of his sofa for the Man of the Match award which was presented to Ryan McCafferty after a fine performance, bagging two goals for Gaga's side.
Thanks to all who turned up for the game to play/help out and lets hope the weather is better for 2013!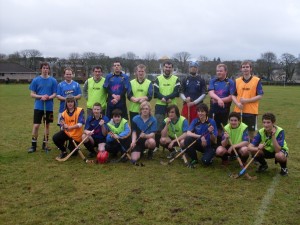 Teams:
Scott, Ally, Andy, John Nally, Stompy, Daniel, Al, Euan G (8)
Gaga, Innes, Conor MacD, Micheal, Connor C, Paddy, Dudley, Ryan, Ronan (9)