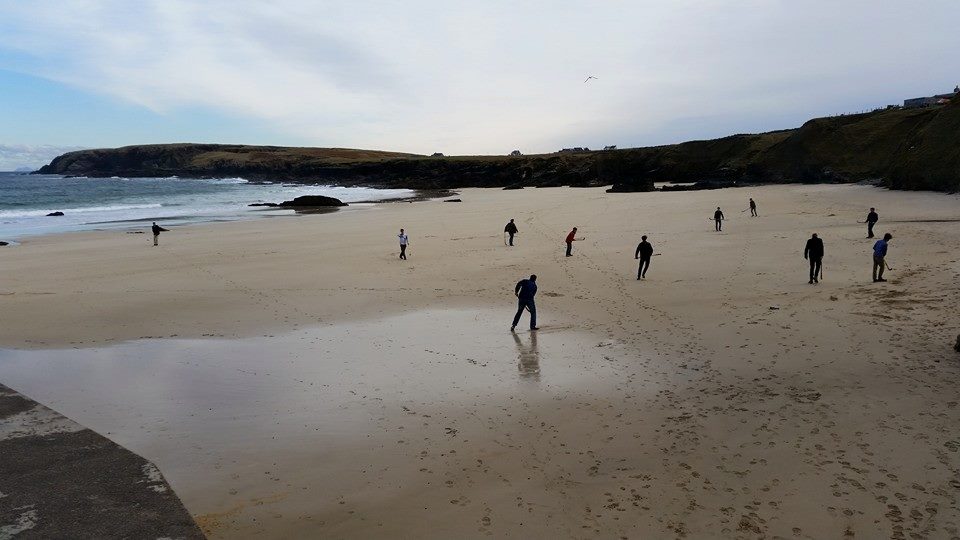 TURAS CHILL RIMHINN DHA NA h-INNSE GALL 2015
On Wednesday 25th March, the club welcomed the travelling squad of the University of St Andrews Shinty Club. This historic tour came about thanks to the connection of Micheal Macdonald, player and former club secretary, who studies Medicine at the University and has been the varsity Captain for the 2014-15 session.
The students left Fife on the Monday, travelling up towards Skye where they spent the night before being taken through their paces at Skye Camanachd's Pairc nan Laoch courtesy of Skye coach David Pringle. They then travelled over on the evening boat from Uig to Tarbert before setting up base in Laxdale.
The Wednesday saw Micheal take his squad around the sights of the island, with some beach shinty, standing stones and brochs. The scene was then set for a historic first game between St Andrews and Lewis at Bayhead. The Fifers were piped on to the park to face the islanders. With several of the club's home based players limited in their playing time this season it was a vital game, and both sides had difficulty in the first half but the play was full of gusto and enthusiasm. However, in the second half Will Church grabbed a couple of goals in a five minute spell to put the game out of reach for the students.
Thanks to John Nally for refereeing the game. The game was obviously mutually beneficial as both teams recorded victories in their next game, Saints beating Dundee Uni 4-1 at the same time as our win at Boleskine last Saturday. The lads then enjoyed a night out in Stornoway.
The Saints left on the Loch Seaforth on the Thursday morning happy and contented by their trip to the Hebrides. We hope that we will see them again and we hope to send some representatives to the St Andrews Sixes in May. As Diablo himself said, "Great to have Micheal, Starchild, Susie and the gang over. Look forward to our next encounter and hearing the pipes again. Mìorbhaileach."
Micheal, of course known by his traditional St Andrews nickname of Cho0nar, thanked both Lewis Camanachd and Skye Camanachd for their hospitality. "It was fantastic. Not only did they get a great tour of the west of Scotland, and some great coaching in Portree, they got a great welcome from one of the keenest teams around in Stornoway!"
The St Andrews Squad was: Beefee, Furbi, Kahuna, Jabba, Llcress, Cho0nar, Chapff, Smithers, Suzi, Hwaneetuh, H.Gumgum, Bibee, Selaysus Krumbles, Yoshi
Thanks to Micheal and Anna for the photos.