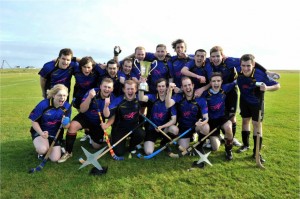 We were asked for a translation of the Mòd Article so we created a short listicle of the key facts.
The Mòd Cup was first presented by the Aviemore Branch of An Comunn Gàidhealach in 1969 when the Mòd was held in there in 1969.
It was first played for between Newtonmore & Kingussie. Newtonmore won and it is the only national trophy that the Kings have never won.
The trophy used to have a lid but this has been lost at some point.
It is always played by two sides close to where the Mòd is held. This has led to several interesting match ups over the years, especially giving smaller clubs the chance to claim a national trophy.
The Mòd was first held in Stornoway in 1979. It is unclear at the moment where the 1979 game was played, but it was won after extra-time by Lochcarron 5-3 against Skye. Boyd MacKenzie played in that match.
The Mòd returned to Stornoway in 1989. Skye Camanachd defeated Beauly 4-2 at Bayhead. Goasl were specially made for the occasion. Many of the Skye players that day went on to win the Camanachd Cup the next year.
Of note in 1989 was that Beauly player Martin"Toad" MacLean" played the last senior fixture to be played in Lewis until 2011, when "Toad" also played for Lochbroom in the first ever Camanachd Leòdhais home game.
The Mòd was held in Stornoway again in 2001, but the shinty as played in Tarbert. For the first time, a Lewis based side competed, a young Back Camanachd facing Kyleakin Primary School. It ended up 11-0 to the Sgitheanaich. Several of the players in both sides have gone on to good shinty careers. Kyleakin are quite possibly the only Primary School team to have ever won a national trophy in any sport.
The Mòd Cup was first held in Uist in 2005 as part of Mòd nan Eilean Siar and Uist defeated a Lewis select in an event which also saw the Lord of the Isles Trophy up for grabs with 70 kids taking part.
Shinty returned to Uist again in 2011, with the reformed Camanachd Leòdhais facing off against Uist Camanachd. Both teams had been competing at national level, Lewis in North Division Three and Uist in the CA Development League. In a tight, tousy game, Lewis won their first major trophy 2-0.
This year's fixture at Mòd nan Eilean Siar is between Camanachd Leòdhais and Skye Camanachd and will be held at Shawbost on Saturday 15th October, throw-up at 2pm.