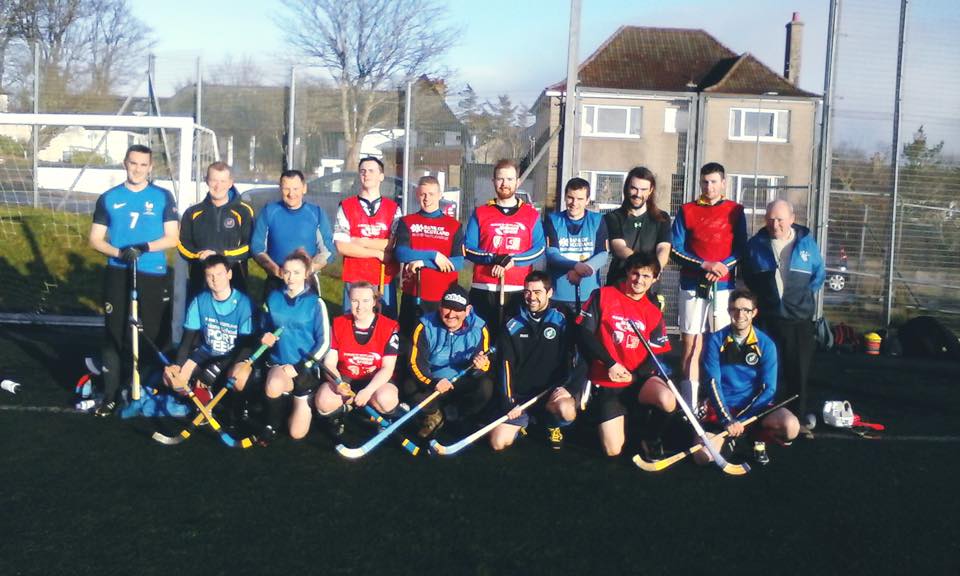 LEWIS BLUES 5 (D.Macintyre, D.Lamont 4) V LEWIS REDS 4 ( A.Reed 3, R.Macmillan)
Camanachd Leodhais celebrated the New Year in traditional style with the annual Iomain Challainn intra squad challenge match yesterday. With Vice Captain Peter Gomez laid low with Hogmanay/Man Flu the customary captain v vice captain match was altered slightly with Manager Duncan Macintyre picking two evenly matched teams.
LEWIS REDS: M.Macdonald, D.Gallagher, A.Macrae, S.Macleod, A.Reed, P.Sinclair, R.Sinclair, R.Macmillan.
LEWIS BLUES: I.Sinclair, S.Morrison, C.Macdonald, A.Lamont, P.Duke, D.Lamont, N.Macleod, D.Macintyre.
Ref: H.Macinnes
It was a high quality, high intensity match. Despite early Blues pressure, a mix of good finishing and unorthodox goalkeeping from Blues stopper Diablo gave the Reds a two goal lead. Al Reed getting his first of the day and Ruairidh Macmillan with a predatory finish. Blues midfielders Ally Lamont and Paul Duke then began to dominate the game and created the chances for Duncan Macintyre to pull one back and for Donald Lamont to strike twice before the break to make the score 3 2.
The Blues fell asleep at the start of the second half with Al Reed pouncing again to bring the scores level. Again the midfield battle raged , the Sinclair brothers locked in a titanic battle with Ally and Paul. A further two strikes by Donald looked to put the game safe for the blues but a nervous last ten minutes awaited them as Al Reed completed his hat trick. The Blues were keeping the ball in the corner and eventually persuaded referee Henry Macinnes that enough was enough and an enthralling match ended 5 4.
YOUTHS
This was not the only entertainment afforded the Smith Avenue crowd. Earlier in the day the Camanachd Leodhais youths had their turn to bring in the New Year. All who were in attendance were impressed with what they saw and were positive that another Steven Morrison or Scott Macleod would soon be emerging from this talented crop of players.
Bliadhna mhath ur dhiubh uile bho Camanachd Leodhais. Mile taing airson ur taic tro na bliadhnaichean. Dubh is Gorm.
Match Balls Provided by Tanera Camans