Camanachd Leòdhais went into the final game of the historic 2011 season, their very first, hoping to avoid a big defeat to try and avoid conceding more than 100 goals. Four years on, how things have changed.
2011 Final Standing 10th/10 W 1, D 1, L 16, GS 18, GA 101, PTS 3
2012 Final Standing 8th/10 W 3, D 2, L 13, GS 26, GA 69, PTS 8
2013 Final Standing 9th/10 W 3, D 4, L 11, GS 37, GA 62, PTS 10
2014 Final Standing 2nd*/6 W 6, D 2, L 6. GS 29, GA 30, PTS 14
Once the Camanachd Association trial period was vanquished and the Mòd Cup secured, the club was mightily satisfied by the win and a draw secured against Ardnamurchan and Strathglass, which was more than had been expected by the naysayers in the first season.  The goal statistics were secondary and at least, the club had scored on average a goal per game. The main damage was done in the 15 nil loss to Aberdeen Uni, but 8 or 9 goal defeats to Strathglass, Boleskine and Lochcarron did not help the numbers. It was a year for playing shinty and securing league status was the result that mattered.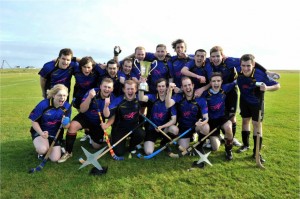 In the second season, points were collected nice and early, with a league double over Inverness and points gained with the now legendary 6-6 draw against Strathspey and there was a significant tightening of the defence in those games the team did lose, apart from a disastrous last day 12-0 defeat by a weak side against a rampant championship winning Beauly. It was definite progress and leaping from 10th to 8th made a big difference.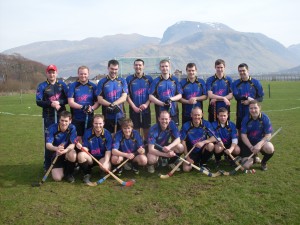 2013 saw Lochcarron first team enter the league but we showed steady improvement, starting with a draw against the fallen giants and eventually beating our previous points record but with a more competitive bottom half of the table, a final day draw against Inverness was all that stopped us from finishing bottom of the league, courtesy of goal difference.
In terms of goals, both Duncan and Will got into a great groove, with both scoring double figures. In terms of the defence, there was a general improvement and the goals against total  would have been even better without a couple of drubbings from Lochaber, who were far and away the best side in the league and therefor it was only 7 less than the previous year's 69. However, 2013 was in many ways a frustrating year, where going the extra mile to victory seemed to evade us. There were four games lost by a single goal. We let Kilmallie off the hook and there were two sloppy performances against Inverness which cost three points and home form was poor, except for a great home win in the rain against Strathspey.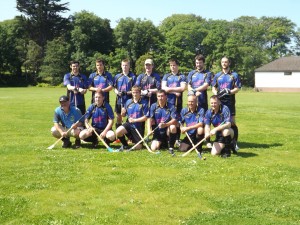 So on to 2014, and the improvement is there to be seen. The 2014 season has been a shorter season, with only 14 games. The debate regarding the merits or otherwise of the league split is for another day, but Lewis was happy to guarantee a top three finish with a point against Lochbroom. Shawbost has become a less welcoming park for visitors and only regret is that almost all these great performances have been on miserable West Side days, meaning that watching spectators have been kept to the loyal few.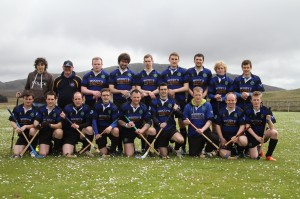 Whilst Duncan and Will haven't hit the same heights this year, (but still lead the scoring charts) we have seen goals spread around the team, with Donald Lamont returning to a semblance of form and Paul Duke more settled in the forward line. The defence has played well, losing only 30 to this point, and a third of those goals lost came in just two games against Cabers.
All over the park, skills have improved and there has been a good depth in the squad. There has been some great shinty played at times and everyone can be proud of the effort put in this season and the majority of their performances.  There have been defeats and setbacks but how you respond to these is the mark of a true sportsman and we, more often than not, respond well. Four years has gone past in a flash, but it is heartening to know that the bulk of the squad is the same as that which began the journey back in 2011 and before that in 2007, and that there are plenty that came from Boyd MacKenzie's training still involved.  There is still a long way to go, but we can be proud of our progress as a club to this point.
The end of the season will hold an autumn which will see us focus on our youth system and a winter which will see us mark the 20th anniversary of shinty returning to Lewis in 2015.
*(This article has been updated to reflect that Strathspey have conceded the points for the final game of the season. Whilst second place is not yet confirmed as of 28/8/14, Strathspey require an eight goal margin of victory against Caberfeidh in their remaining game.)