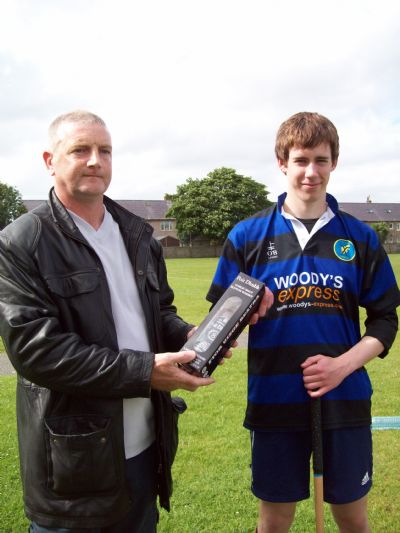 After a hiatus last year, the Craig Morrison Stornoway Sixes will be held on 29th June in Stornoway, Isle of Lewis.
The tournament was first played for in July 2010 in memory of Camanachd Leòdhais player Craig Morrison who passed away in a tragic accident at the age of 20 on July 6th 2009. https://www.camanachdleodhais.com/misc/craig-morrison/
The whole West Coast Shinty Fraternity was in attendance. Skye Camanachd A&B, Lochcarron and a combined Uist/Lochbroom/Kinlochshiel Side known as Stromeferry No Ferry United competed in that tournament, with Skye Camanachd "A" winning a thrilling final against Lochcarron and Craig's friend, Scott Murray of Lewis winning player of the tournament, the picture above has Scott being presented with his award by Craig's father. It was a fitting memorial for a young man who was a positive and proactive member of the club in its early non-league days.
Four years from his passing, Craig's loss is still felt keenly by all those who played with him, especially as the club have embarked on their league adventures. Leòdhasach manager Iain Sinclair said on behalf of the club, "It is a fitting way to remember Craig with a shinty tournament. He was dedicated to the club and will always be remembered for his contribution to Camanachd Leodhais."
The 2011 version was played between local teams and was won by the Lewis B Team, but unfortunately there was no time to schedule the tournament last year.
The 2013 tournament is open to allcomers and the club would be interested in hearing from all and any teams who wish to participate for this prestigious trophy. A great weekend is guaranteed in Stornoway at the height of the summer and it is well worth the trip.
The Tournament will begin at 1pm, but mainland sides will be able to start play at 2pm to allow them to come off the ferry from Ullapool, or to reach Stornoway from Tarbert.
For more details contact the club via @lewiscamanachd 07747 161481 or 07799 164811