The club held its player of the year awards function at the Stornoway Sea Angling Club on Saturday 18th November.
There was a great turnout to celebrate a fantastic season for Camanachd Leòdhais and there were three worthy winners who bagged the four trophies on offer.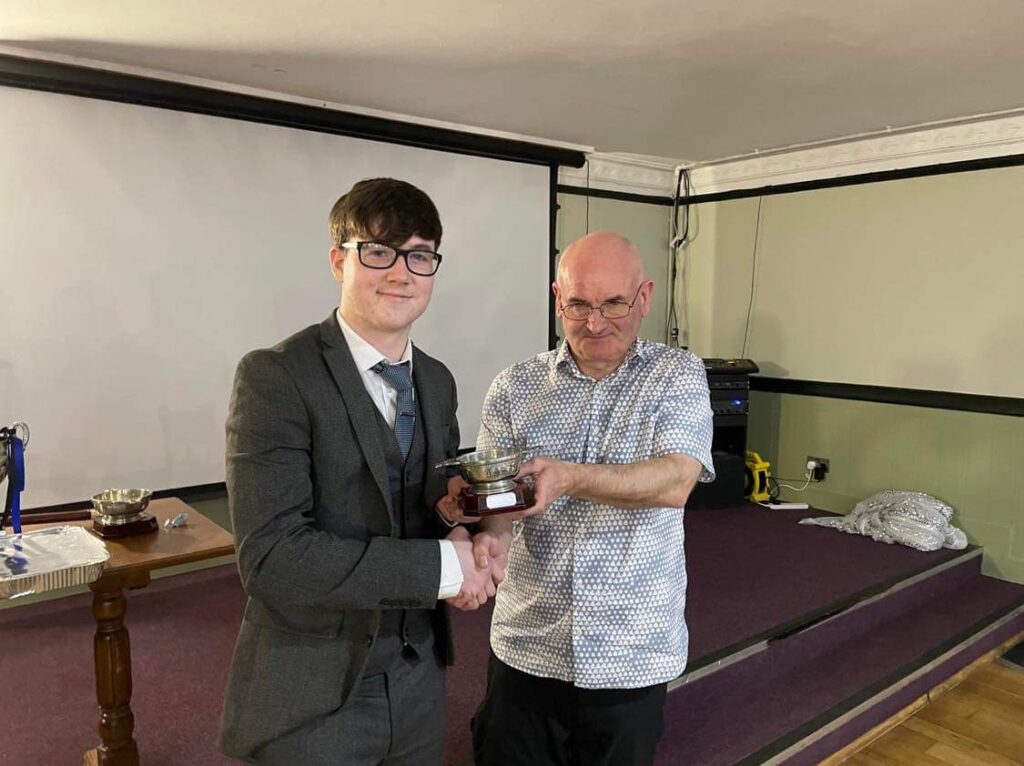 First up was Youth Player of the Year which went to Finlay MacLeod. Assistant Manager Andrew MacAskill said:
"Finlay excelled in 2023, showing tremendous commitment throughout the season. Only missing one game all season through injury, Finlay initially found himself on the bench to start the season. Once he was afforded the opportunity to start, he took the bull by the horns & performed fantastically. Arguably the brightest spot in our loss to Glengarry, Finlay got the start at wingback against Fort William in May & put in a phenomenal effort, playing all 120 minutes & proving that he could be counted on going forward. Finlay started at wingback for the majority of our remaining games for a defence that proved to be the most miserly in the league & hardly put a foot wrong. He not only represented the club at the National Development Camp, he also gained a first cap for Alba against England in September, winning the English Camanachd Cup."
It was a double celebration for our top marksman in 2023 Donnie MacRae as he stopped both the Captain's player of the year award & the club's player of the year award.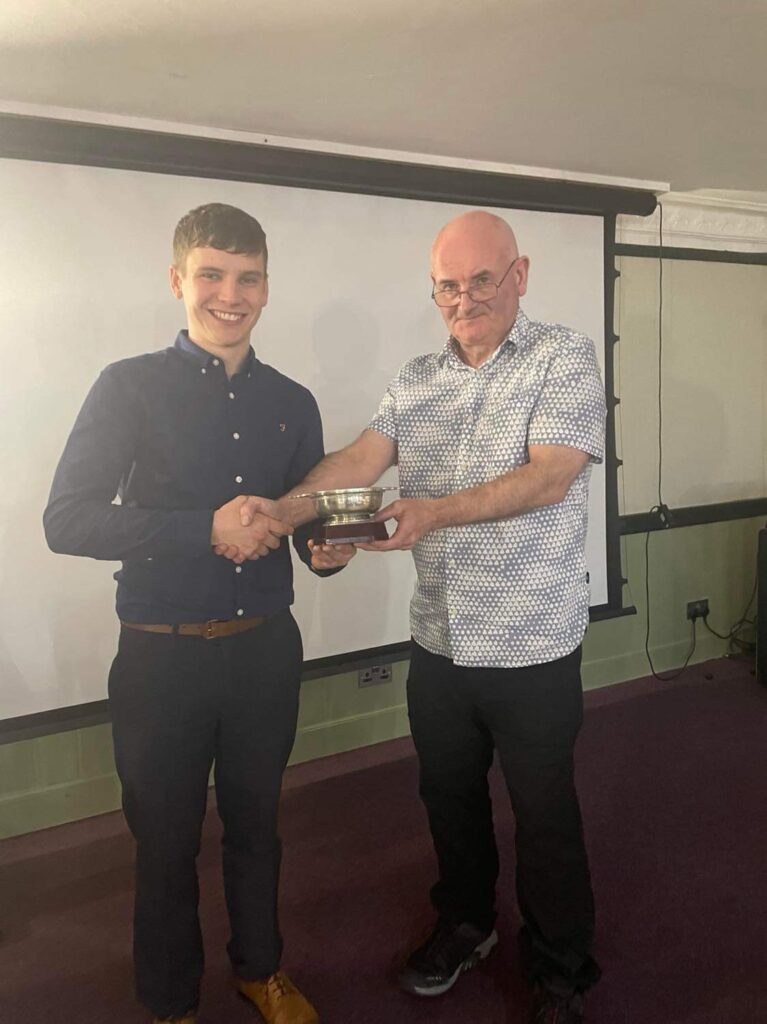 Donnie only joined the club towards the end of 2022 but he has already gone about re-writing our record books. Our half forward was on fire in 2023. He played in 19 games throughout the season, scoring an absurd 25 goals in all competitions. What makes the feat even more impressive is that he went almost 3 months without a goal during the season. Donnie scored in 11 of our final 12 matches, including a run of nine games with at least one goal. In that span, he found the net 22 times. Perhaps showing just how valuable Donnie was to us this season, we lost three games in the league this season. Donnie missed two of those games & played through illness in the third.
A goal-scoring juggernaut this season, Donnie is a worthy recipient of both awards.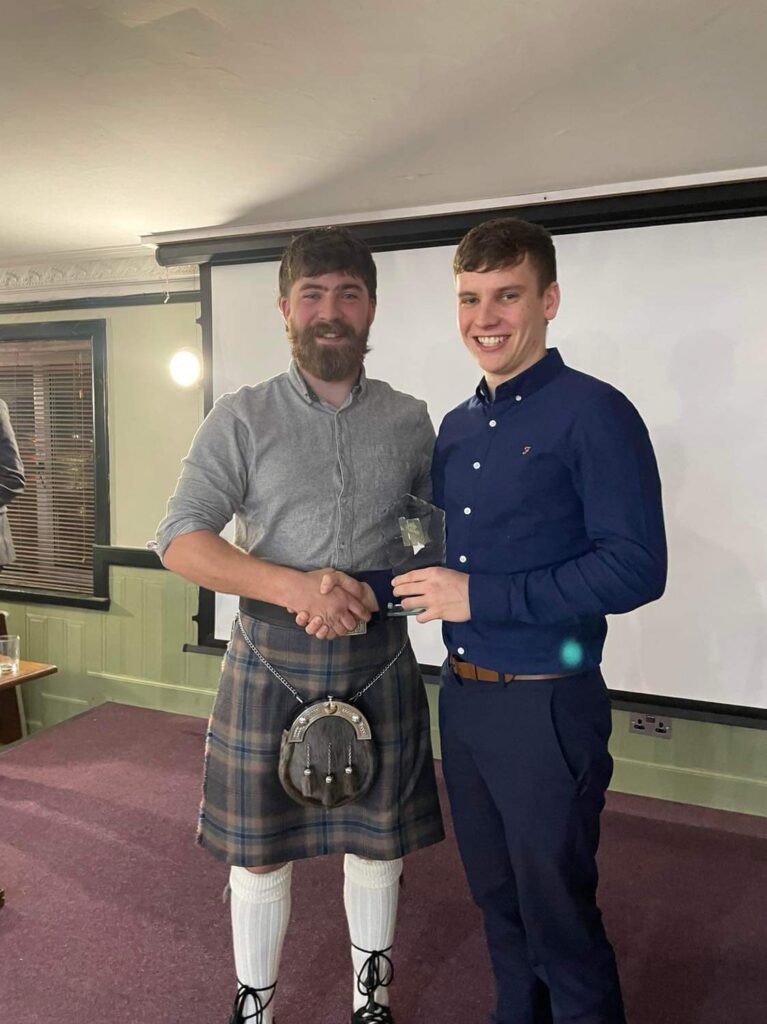 Whilst dishing out the Captain's player of the year award to Donnie, Scott MacLeod was recipient of the Manager's Player of the Year Award and the Donald Shaw Caman.
Scott was installed as club captain at the start of the 2023 season. Taking to the role like a duck to water, he led us to our most successful season to date. Showing tremendous commitment by playing in all 21 games this season, his performances were always of a high standard. Whilst so many players had stepped up to the plate, Duncan couldn't look past our captain & provided the following comments regarding his decision:
"Choosing my player of the year has been made very difficult due to some tremendous performances from a number of players this Season. Scott has proven to be a fine Captain, leading by example both in his performance level and his attitude. Playing in one of the toughest positions in Shinty, Scott has set a tremendous level of consistency, combining skill, fitness & toughness all attributes that make Scott a top class Full Centre."
Duncan himself could not be in attendance due to receiving his MOWI North Coach Award so prizes were handed out by Club Chieftain Iain Sinclair and Assistant Manager Andrew MacAskill.
You can find all previous winners of the club's awards as well as other honours at the following page.