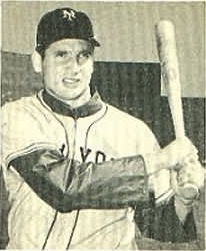 The first in a series of informal essays with Iain "Diablo" Sinclair about shinty and sport in general.
Meeting John Cummings
Thanks to the fact that Camanachd Leòdhais was away to Aberdeen University last week for a North Division Two Shinty match I had a chance meeting with John Cummings, a native of Brooklyn, New York on the Ullapool/Stornoway ferry, The Loch Seaforth. John was on holiday in Scotland with family and friends and was returning to Ullapool after a trip to the Isle of Lewis.
I had been discussing with Will and Andrew the fact that I had a famous sporting relative who very few people in Scotland knew about. The reason that he wasn't well known was because the sport he played is not widely played or followed here, namely Baseball. I said that however any time I had met US citizens or had been in the US myself, people knew him well.
John had shown an interest in our camans and we showed him a shinty ball too. I decided to go and have a chat with him to see if he knew my relative.
I went over and introduced myself. We discussed shinty and his interest in it.He had Scottish roots as his name suggested. And he was obviously a sports fan. I said, " Do you know that I have a famous sporting US relative?" John and his party smiled and asked who it was.
I said, "He was nick-named The Staten Island Scot and he was my Granny Murray cousin's son."
John smiled and said, "Yea, Bobby Thomson the baseball player who hit  THE  famous home run known as the "Shot Heard around the World."But you know what Iain? He was playing against MY team!"
He then went onto describe the day of this momentous sporting moment. John was  a Brooklyn Dodgers fan and in 1951 he was in school the day of play off for the much coveted National League pennant. John said that word went round his school that The Brooklyn Dodgers were 4 to 2 up on The New York Giants. When the bell went for close of day he ran six blocks home as fast as he could to see the end of the play-off. It was the first major sporting event  televised coast to coast in the US and John caught the end of the play-off. But with the last ball Thomson hit a walk-home run and a looming defeat for the Giants turned into a 5-4 victory. John as a Brooklyn Dodgers fan said he was inconsolable!
The announcer excitedly repeated, "The Giants win the pennant! The Giants win the pennant!"
What a day that must have been for The Giants, as you can see on the internet from the televised coverage of the celebrations in the stadium.
We shook hands and said how good we had met each other in such unlikely circumstances. His first hand recollections of Bobby's achievement made me feel proud. It was a delight to meet him and reminisce about a great event in my family's  sporting history.
John went on his way and we went to our shinty match. Safe home John and your folks! It was a sublime moment that I'll never forget. As Andrew said after, "It's moments like those that make everything we do with the shinty worthwhile." Too right Andrew mate!
As a postscript I was telling my mother this story. She reminded me that she and my father John MacIntyre Sinclair had gone on their honeymoon to New York in 1964 and met their US relatives and Bobby. Bobby was a big sporting celebrity but my mother said he was a very modest man who didn't let the fame go to his head. She also said my Granny Murray was very close to Bobby's family. She said that Granny Murray had pushed Bobby's pram as they went down to the Broomielaw Quay at the River Clyde, Glasgow as they prepared to board the liner that would take them to their new life in  Staten Island, New York City. She was distraught at their leaving but always kept in touch as their new lives in the US unfolded.
It made me very proud that Bobby was obviously such a sporting hero and gentleman, sad that that we never met. So I'll treasure this fantastic sporting memory and give it to my sons Paddy and Ronan who love sport so much especially The Shinty. Just makes me wonder what Bobby would've been like with a caman in his hand!