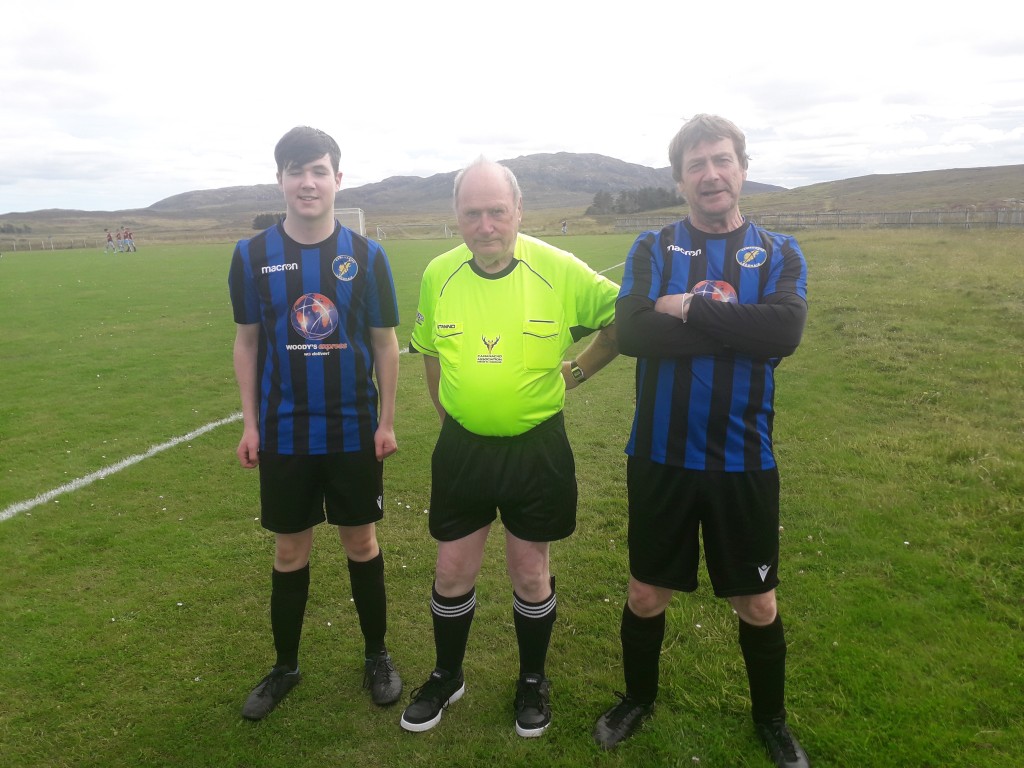 Saturday's last home game of the season at Shawbost was a refereeing swansong for Henry MacInnes, who is retiring for shinty refereeing after a long career. Pictured here with his relations Willie and Finlay before the game, Henry is one of the many Hearachs of Portnalong, Skye and a well known face in the Gaelic and shinty worlds over the years. He lived and worked in Easter Ross before moving to Lewis.
Henry has refereed several matches since moving to the Isle of Lewis, and the club is thankful for him taking the time to ensure games can go ahead. Henry is of course famous as the inspiration behind Fergie Macdonald's famous tune and song "The Shinty Referee". He will be refereeing one final match at the Mòd Cup Aviemore Trophy match between Tayforth and Aberdour on Saturday 15th October. Henry has refereed this fixture several times in the past, including our legendary 2011 victory over Uist.
Henry's first ever refereeing gig was a Division Four North game in 1979 between Lochcarron and Strathglass at Battery Park, which the Glasaich lost. Finishing off with a match involving the Cannich side was a good luck charm for the Dubh is Gorm, as it resulted in a record win in the league for the club at home. Strathglass played well, but Lewis put in one of the best performances of the season and the 5-0 margin matched that of a 6-1 away win at Inverness in 2019. Callum MacRitchie also equalled Duncan MacIntyre's haul of 4 goals in a game against Uist in the 7-0 drubbing at HebCelt Cup 2013. His first was an awkward ball into the box that got lucky but the other three goals, as well as Paul Duke's goal were goals of the finest quality and finishing. This result guaranteed the club will finish at least 5th in North Division Two, the club's best finishing position ever in North Two, and the best result since 2014's second place in North Division Three.
Thanks to all the teams who travelled over this season, hopefully we can get a full card next year. Next up is the final game of the season away to Aberdeen University on September 10th.