For the first time in ten years, Cuach a' Chuain Sgìth – The Minch Cup – will be contested by sides from Lewis and Lochbroom. This match up will be held between two youth teams on Friday 19th May at 10am (TBC) in Ullapool.
Cuach a' Chuain Sgìth – The Minch Cup was presented by now Honorary Chieftain Sean MacLeod for competition between Camanachd Leòdhais and Lochbroom Camanachd in 2007. It is a trophy with a storied history as the first running of this competition was the first ever senior game by Camanachd Leòdhais. The Dubh is Gorm have never won the trophy at senior level.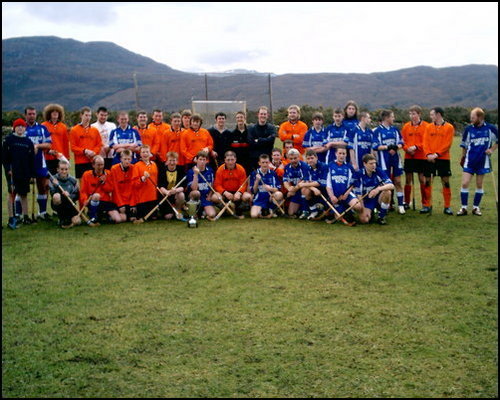 A history of this fixture and other games with "The Broom" can be found here.
Lochbroom were generous hosts and friendly rivals for many years as Camanachd Leòdhais found its footing. They allowed the club to use Inverlael for club matches, as well as being the first team to ever play in Shawbost in a league fixture. Sadly, they withdrew from the leagues in 2015 but with development work in the Primary School in Ullapool, the sport is back on the up in the Wester Ross ferryport.
Camanachd Leòdhais is indebted to Davie Irvine, long term stalwart of shinty in Lochbroom for keeping the cup safe and hope that its reintroduction as a prize marks the beginning of another era of match ups between teams from both sides of the Minch.
Lochbroom (Ullapool Primary) V Camanachd Leòdhais
Cuach a' Chuain Sgìth
Throwup – 10am (TBC) Ullapool