Camanachd Leòdhais looked forwards and backwards with the annual awards dinner last Saturday. For the first time, the player of the year prize was shared. Top-scorer Will Church and club stalwart defender Daniel 'Gaga' Gallagher jointly received the silver quaich.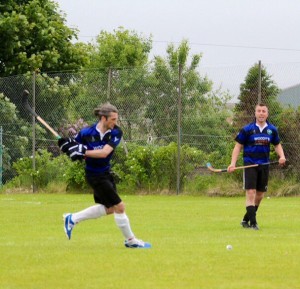 Will scored 14 goals this season and is the club's all time top scorer. Will has been a fantastic signing for Lewis and is a great example of someone who has come to the sport in later life and made great strides.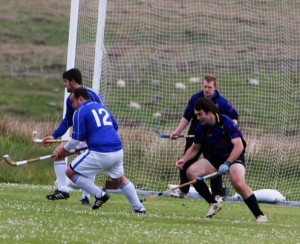 'Gaga' has always been an important figure for Leòdhasach shinty, having been involved almost since the sport was reintroduced and becoming an iconic figure renowned through the shinty world but in 2013 found another level and he impressed many opponents with his defensive play this year. A two time previous winner of the award.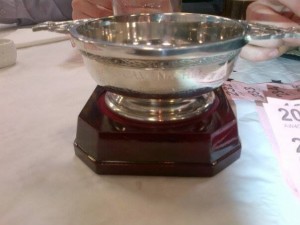 As the prize is voted for by their teammates, both players deserved the support and respect of their peers.
Scott MacLeod won the junior award. Scott received representative honours with Skye Wester Ross this year as well as captaining the Lewis colts. His family have a strong connection with the club and hopefully Scott will soon make his first team debut.
Presentations were also made to chair Annette Murray and Trish Sinclair for their contributions off the park. Iain Sinclair summed up a season which brimmed with potential but too often fell short of greatness by looking at the top ten moments. Wins against Strathspey and Uist were big highlights and the club joined in song and dance to look forward to 2014 with vigor. Thank you to all at the Lodge for their hospitality, in particular Donald's magnificent roast beef!
Iomain Challainn

The first act of 2014 will be the traditional Iomain Challainn at Bayhead on Saturday 4th January, with players meeting at 1.30pm for a 2pm throwup. In the tradition of old fixtures between the Stornoway Athletic Club and the Stornoway Tailors at Tong beach, as well as the games played in the 1990s revival, this ancient Gaelic tradition will see two sides picked and playing for bragging rights for the next year. Any shinty players visiting the island are also invited to take part if they wish and it is always an entertaining spectacle for those who wrap up warm.
Iomain Challainn – New Year Shinty Match
Bayhead, 2pm, Saturday 4 January