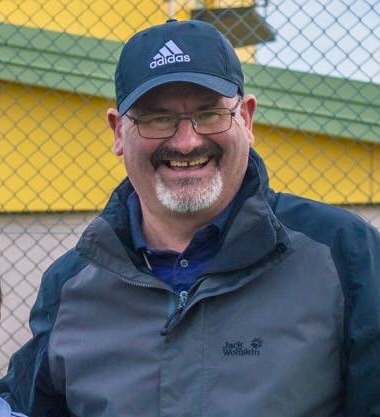 Camanachd Leòdhais manager Iain "Diablo" Sinclair has announced that he is to step down from the position after three seasons.
Iain took on the role in 2013 from Paul Duke. In that time he has presided over an era of expansion and development of the first team which has seen several good results and the club establish itself as a respected and competitive side.
Not coming from a shinty background, Iain has had to learn many things on the job and has approached his challenges with enthusiasm and optimism. He had already been a valued member of the backroom staff and a committee member before making the transition to management, after some experience as youth coach.
In 2013 a final day draw at Inverness was required to avoid bottom spot in a highly competitive North Division Three. However, in 2014 Iain would guide his side to second place in North Division Three and be awarded the Marine Harvest ND3 Coach of the Year award.
He signs off with the club having secured at least eighth in a highly competitive North Division Two and with three HebCelt Cups in a row to his credit as well. His eldest son Paddy is an important first team player for Leòdhas and Glasgow University and his youngest son Ronan is a promising young defender. Even his long suffering wife Trish has been involved, preparing meals and helping out with various other duties.
Iain's favourite memory of his time in charge is a recent one, the 1-0 victory over Cabers at Castle Leod. "Will Church's goal against Cabers which was then followed by one of the greatest team efforts I have ever witnessed in all my years of watching sport, capped by Graham "The Jockey" Cay's performance in goal .That's the first great memory that springs to mind."
"I will be stepping down at the AGM. It is a great honour to have been the manager of our club for three seasons. I will continue to do anything I can in anyway to help our great club progress. Lewis Camanachd forever – Camanachd Leòdhais gu bràth!"
The team, committee and fans would all like to thank Iain for his contribution to the club over the last three years, before that and into the future. There will be many songs in Gaelic and English sung by you for many years to come and we indeed look forward to your future contributions to our great sport in the Hebrides.
Mile taing Iain, a h-uile beannachd gach là a chì is nach fhaic!
Glè mhath were the boys…!!!
The club will seek to appoint a new management team at the AGM.